This is my mother's recipe, something she used to make often back home and one of those days she surprised us making this salad to serve with dinner… I must admit I completely forgot how beautiful and bright in colour this salad was.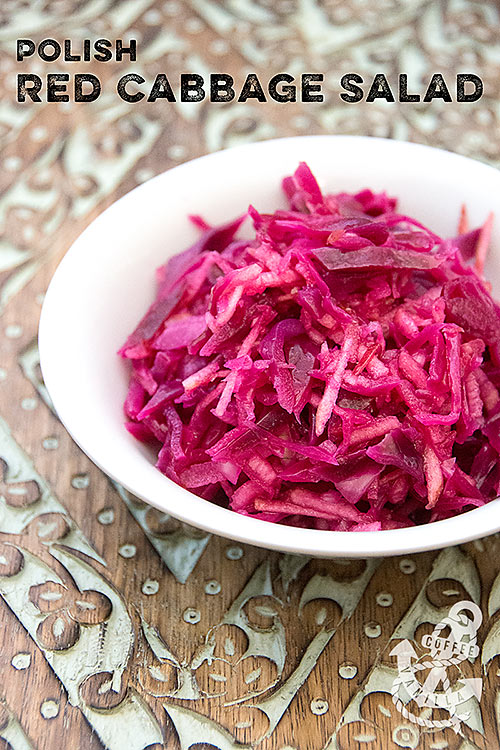 INGREDIENTS
½ head large red cabbage (shredded)
½ lemon juice
2 – 3 apples, more if small (grated)
1 small onion (chopped finely)
2 – 3 tbs olive oil
fine sugar – to taste
salt – to taste
EQUIPMENT
medium pot
strainer
mixing bowl
METHOD
Bring pot of water to boil, add cabbage and continue heating until water is boiling again.
Cook 1 minute longer, strain the cabbage, cool down a bit and place in a mixing bowl.
Add lemon juice to bring back the colour, grated apples and onion.
Season to taste with salt and sugar, mix well and place in the fridge to chill a bit before serving.
Makes 4 – 5 servings.
NOTES
More Polish recipes.
More salads from our blog.
If you are looking for more red cabbage recipes, take a look at Cathy's Red Cabbage and Cannellini Bean Soup or Choclette's Braised Red Cabbage.
I'm submitting this recipe to March Inheritance Recipes that we co-host with Solange of Pebble Soup.