INGREDIENTS
for the filling
1½ kg apples, crunchy and not too sweet apples would be the best (peeled, cored, cubed)
6 tbs blackcurrant jam (I used my mom's homemade marmalade)
2 tbs vanilla sugar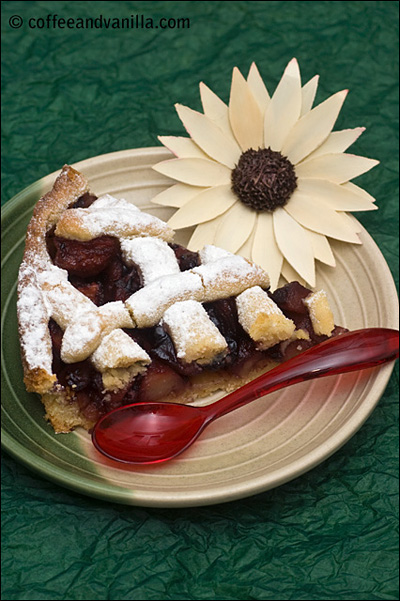 for sweet short crust pastry
2½ cup plain white flour
200g unsalted butter (cold, chopped)
½ cup golden caster sugar
2-3 egg yolks (I used 3 small yolks)
3 tbs natural yogurt, soured cream or even cream cheese
icing sugar to sprinkle – optional
EQUIPMENT
9" (22,8 cm) round non stick cake tin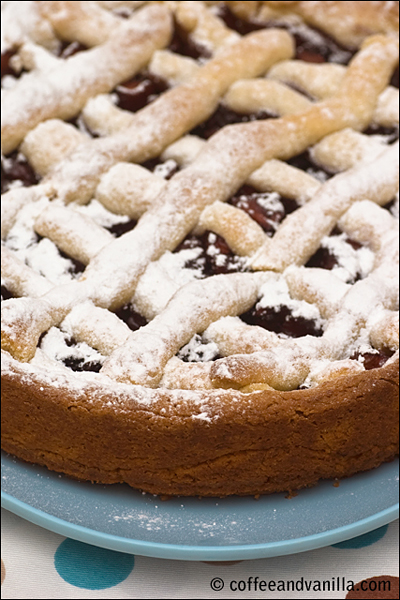 METHOD
To prepare short crust pastry in a mixing bowl combine flour, butter, sugar yolks and some of the yogurt.
Knead the dough with your hands till it creates smooth dough and is not falling apart any more. Add rest of the yogurt if necessary. Place in the fridge for about an hour.
In meantime peel apples, core and cube them.  Mix them with blackcurrant marmalade and fry them in deep frying pan till there is no more water, apples are starting to get soft but they are still almost raw. Remove from fire, add vanilla sugar and leave aside.
Take out pastry from the fridge, cut off ⅔ and remaining ⅓ put back in the fridge. Cut dough into slices with knife, cover bottom and sides (about 3 cm tall) of the tin with the dough. With your fingers flatten the dough to cover all possible spaces in between pastry slices. Prick bottom with fork and place it in preheated oven to 180°C (356°F) for about 15 minutes. Dough have to get dry and start getting golden. Place apple mixture on the top of the dough. Remove remaining dough from the fridge and cut it into stripes, roll them and cover top of the cake with them creating desired design. Put back to the oven for 35 minutes, top of the pie should be golden brown. Once cooled down, remove from the tin.
Optionally dust with icing sugar.
Serve warm, cold or even chilled.
Make 8 servings.
This pie taste great on it's own or with some vanilla ice cream on a side.
It can stay in the fridge (in air tight container or aluminum foil) for about two days.
My 4 year old daughter did most of the job on this pie, except chopping and frying apples… She did knead the dough on her own and it came out delicious and crunchy.