My girls love taste of Chinese 5 spice (or I should probably say 7 spice) but not so much oriental stir-fry veggies. They like also egg but  rather in one piece than mixed up with noodles so we usually make children friendly version with vegetables they like, egg pancake and prawn crackers on a side (their favourite).
Sometimes we make also stir fried oriental rice similar way and with egg as strips of omelette on the top or add sesame seeds to our noodles.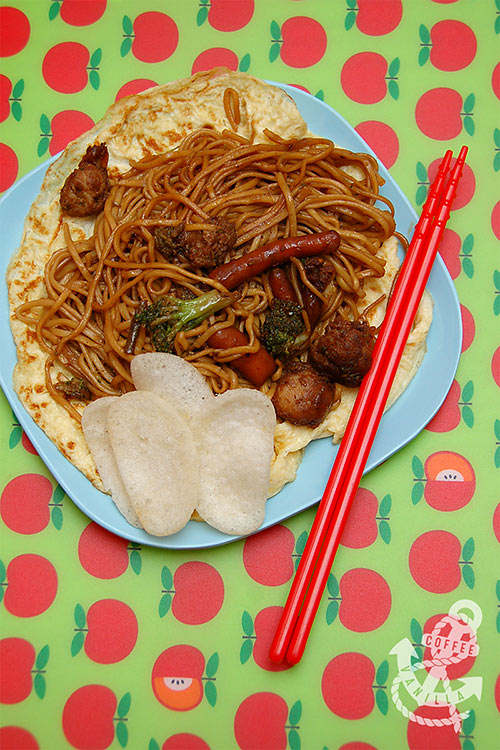 INGREDIENT
375 g packed of egg noodles
500 g frozen veggies (with broccoli, carrots or what ever your kids like) or some fresh ones (we often use carrot and broccoli only)
10 eggs plus a bit of milk
dark soy sauce
1 tsp ready Chinese 5 spice or mixture of ½ tsp fennel seeds, 1 star anise, ¼ tsp cinnamon, 1 Szechuen pepper corn and pinch of ground clove, we also like to add a bit of ginger powder (about ¼ tsp) for heat and pinch of freshly grated nutmeg (everything crushed / mixed together in mortar & pestle)
pinch of garlic powder – optional
butter for frying egg
oil for stir – frying (sesame stir frying oil is our favourite for this)
2 tbs sesame seeds – optional 
sweet chilli sauce (best home-made) – optional
large packet of prawn crackers (to serve) – optional
EQUIPMENT
frying pan for egg
wok or shallow and wide pot
pot to cook noodles
whisk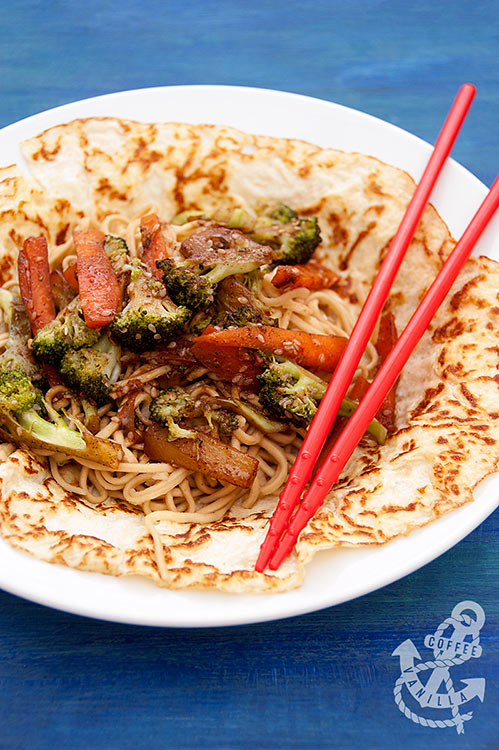 METHOD
On a frying pan heat crushed spices with oil until fragrant.
Add veggies and stir fry only until vegetables are cooked but still crunchy.
Add sesame sees, if using, and stir-fry for a while longer.
Whisk eggs and splash of milk, fry little portion at the time creating 5 egg pancakes, share to the plates.
In meantime cook noodles, drain and and to the wok with veggies.
Stir – fry for  a bit longer adding soy sauce to taste.
Serve on the top of egg pancakes with some prawn crackers on a side and optionally dipping sweet chilli sauce.
Serves 5 people.
NOTES
If you are looking for more noodle recipes, take a look at this Pak Choi & Noodle Soup with Lemon Grass.
More children friendly recipes (and also some craft ideas).