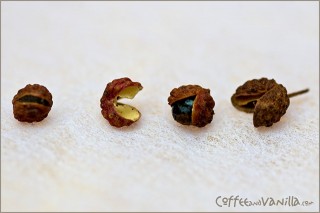 Szechuen / Sichuan / Szechuan pepper despite the name is not related to black pepper or chilli peppers. It is widely used in the cuisine of Sichuan, China, from which it takes the name. It is also popular in Tibetan, Bhutanese, Nepalese and Japanese cuisines.
Szechuen pepper is known also as flower pepper, mountain pepper (not to be confused with Tasmanian mountain pepper), fagara, timur, Chinese pepper, Japanese pepper, aniseed pepper, sprice pepper, Chinese prickly-ash, sansho, Nepal pepper or Indonesian lemon pepper.
Szechuen pepper has unique aroma and flavour that is not hot or pungent, but has slight lemony and woody overtones and creates in the mouth a kind of tingly numbness that sets the stage for hot spices. Recipes often suggest lightly toasting and then crushing the tiny seedpods before adding them to food, usually towards the end of cooking. Only the husks are used and seeds are discarded or ignored.
Szechuen peppercorns are one of the traditional ingredients in the Chinese five-spice and also shichimi togarashi, a Japanese seven-flavour seasoning.