Can you believe I have never attempted to cook anything with pak choi yet? This was my fist time and I really liked it's delicate taste and smooth texture. The rest of the family enjoyed it as well, except for the little one who said it was a bit slimy.
Pak choi also called (also called bok choy) is a type of Chinese cabbage, it can be eaten raw, steamed, cooked just like any other cabbage. It's low in calories and packed with antioxidants and vitamin C among other good things.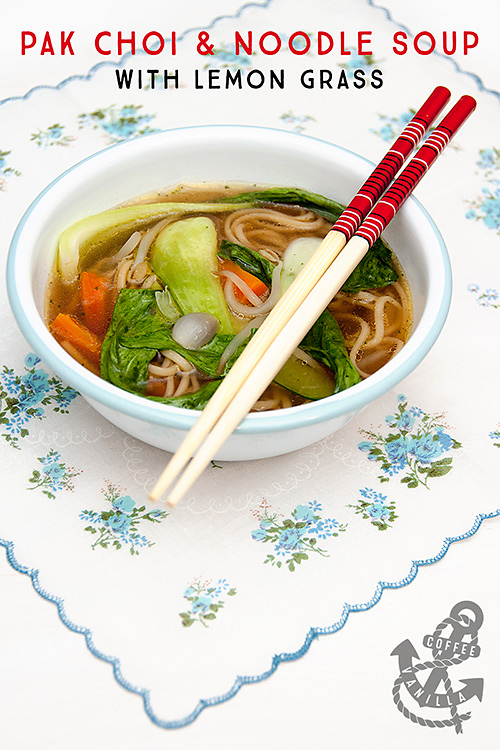 INGREDIENTS
3 l boiling water
2 vegetable cubes (10 g each)
2 lemon grass stalks (crushed or cut lengthwise)
piece of galangal root or ginger if galangal is not available (grated or chopped finely)
4 – 5 garlic cloves (peeled and crushed with side of the knife)
handful of shallots (peeled and halved) or onion (chopped)
250 g egg noodles
2 – 3 pak choi heads / about 200 g (leaves separated, washed, cut in half lengthwise)
4 – 5 carrots / about 400 g (cut into sticks)
3 – 4 tbs olive oil
light soy sauce
fish sauce (we used Red Boat fish sauce) – optional 
chilli flakes – optional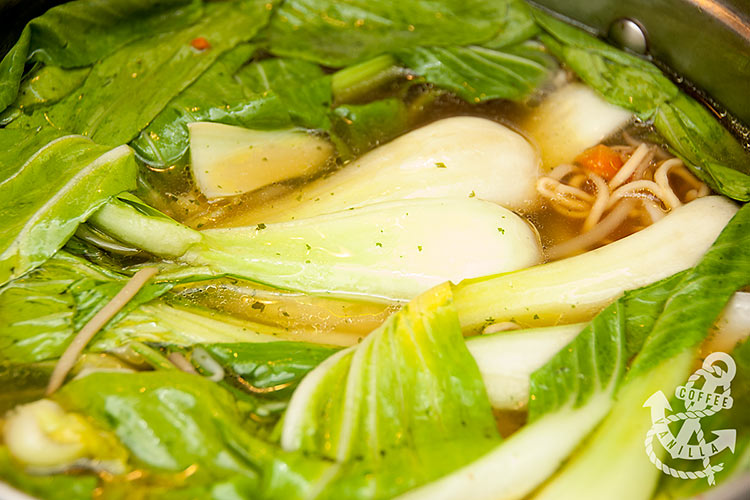 METHOD
First place all seasonings: cubes, lemon grass, glalangal, garlic, shallots in half of the water and cook until fragrant.
In meantime prepare the vegetables: carrots and pak choi.
Add carrots and noodles (they will need to cook approximately 4 minutes).
After 2 minutes add also pak choi and cook for another 2 minutes.
Turn of the fire, season to taste with soy sauce and fish sauce, if using.
Share to the bowls, optionally sprinkle with some chilli flakes and enjoy!
Makes 4 – 6 portions of soup.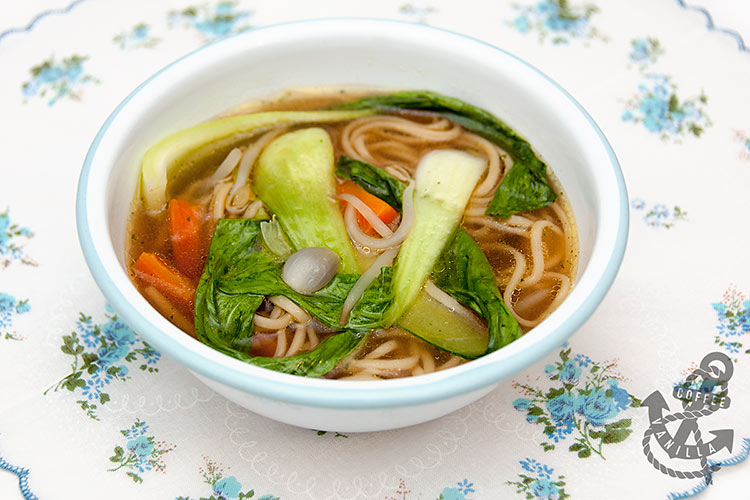 NOTES
If you are looking for more noodle recipes, check out this Home-made Chicken Noodle Soup with Lemongrass & Spinach, Miso Noodle Soup with Fried Tofu, Tomato & Thyme Noodle Soup with Fried Boiled Eggs, Curry Ramen Noodles with Turkey, Carrots & Beans, Egg Noodles with Purple Broccoli and Grilled Tofu, Home-made Chinese Five Spice Noodles or Coconut & Peanut Butter Stir-fry Sauce.
For other pak choi recipes, take a look at Chinese Noodle Recipe with Chicken, Bok Choy & Hoisin Sauce from Cookin' Canuck, Spicy Pak Choi with Sesame Sauce from A Mummy Too, Simple Miso Cod with Sesame Pak Choi from Kavey Eats, Healthy Homemade Teriyaki Sauce or Tamari Silken Tofu, Asian Greens & Brown Rice from Fuss Free Flavours.
More soup recipes can be found here.