This is quick and easy home-made egg noodles recipe with sprouting broccoli and grilled tofu which can be replaced or omitted all together if necessary.
INGREDIENTS
500 g firm tofu (cubed)
6 tbs light soy sauce (3 tbs for grilling tofu and 3 tbs for stir frying veggies)
2 tbs olive oil
3 tbs sesame oil or olive oil
800 – 900 g mixed veggies (I used 600 g stir fry mix with carrot, sweet bell peppers, courgettes / zucchinis, corn, red onion, bean sprouts and 250 g purple sprouting broccoli)
4 nests of egg noodles (330 – 350 g)
boiling water to cook noodles
1 – 2 tsp garlic granules of few garlic cloves chopped
1 tsp ginger root powder or some fresh ginger finely chopped
3 tbs sesame seeds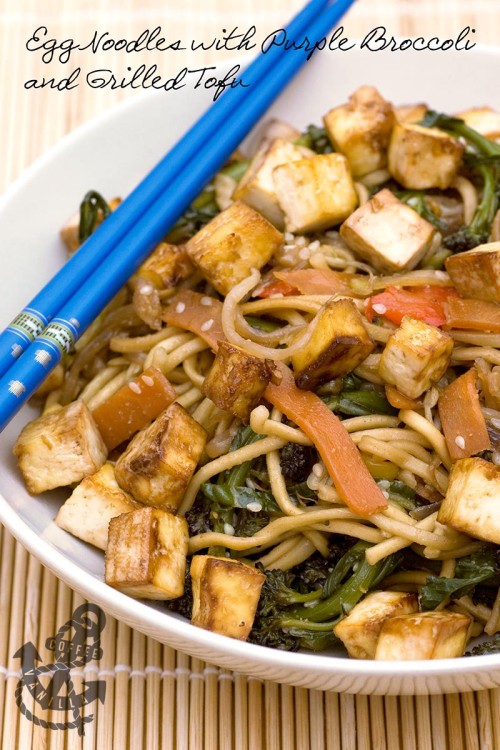 METHOD
Combine 2 tbs olive oil and 3 tbs soy sauce in a bowl, add cubed tofu and stir well.
Place tofu on non-stick baking tray and grill / roast in the oven roast in the oven in 180°C (356°F) for about 20 minutes till starting to get brown.
Prepare also noodles, place them in boiling water and cook for about 4 minutes or according to the packet instructions, drain and leave aside.
In meantime toast sesame seeds on the bottom of wok till golden, remove from the wok, leave aside.
In the same wok stir fry veggies with 3 tbs sesame or olive oil, 3 tbs of soy sauce, garlic and ginger.
When veggies are witted, stir in noodles and toasted sesame seeds and stir fry few minutes longer.
Serve to the plates, top with grilled tofu.
Serves 4 people.
NOTES
Tofu can be replaced with fried and chopped egg… I often make it this way for my girls who are not fans of the first one.
More home-made noodles: Chinese Five Spice Noodles, Curry Ramen Noodles with Turkey, Carrots & Beans, Chicken Noodle Soup with Lemongrass & Spinach or Coconut & Peanut Butter Stir-fry Sauce.