INGREDIENTS
for the sauce (standard version)

400 ml tin of coconut milk
6 tbs smooth peanut butter / about 70 g / ½ small jar
2.5 cm / 1 inch ginger root (peeled, finely chopped)
4 shallots (finely chopped)
2 garlic cloves (finely chopped)
12 tbs of oil (I used olive oil)
4 tbs / 60 ml dark soy sauce or to taste
2 tbs golden caster sugar
2 – 3 bird's eye chilli peppers (crushed) or 2 – 3 pinches of Cayenne – skip if cooking for children
1 tbs lemon juice
for the sauce (lazy version)
400 ml tin of coconut milk
6 tbs smooth peanut butter / about 70 g / ½ small jar
1 tsp ground ginger
2 tsp onion powder
½ tsp garlic powder
4 tbs / 60 ml dark soy sauce or to taste
sweet chilli sauce to taste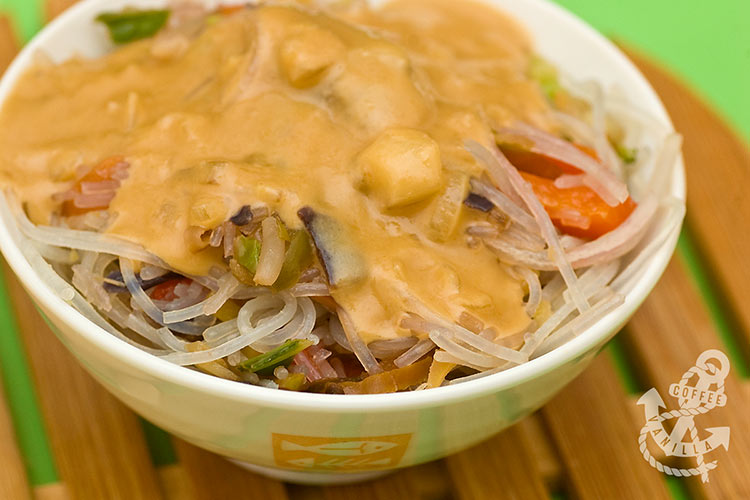 for the stir-fry
250 g dry green bean thread / vermicelli, rice sticks noodles or 4 portions of egg noodles (about 200 g)
1 kg stir-fry veggies: cabbage, carrot, bell peppers, bean sprouts, corn, red onion etc.
2 tbs oil
EQUIPMENT
wok or large/deep frying pan
small saucepan for the sauce
large pot to cook or soak noodles
colander
METHOD
To prepare the sauce (normal version) in a small saucepan fry onions on oil with garlic, ginger and optionally chilli peppers until onions are translucent.
Stir in coconut milk and peanut butter and heat until well combined, add the rest of ingredients for the sauce, mix and leave aside.
For the lazy version just place all ingredients in the pot, except the sweet chilli sauce, and heat until fragrant and well combined, add sweet chilli sauce at the end or after serving to the plates.
Soak green bean thread in hot/boiling water for about 15 minutes or cook ramen noodles according to the packet instructions.
Drain and add to the wok with oil, stir-fry together with veggies for about 4-5 minutes.
Share to the plates, top with coconut & peanut sauce and serve immediately.
Serves 4 people.
TIPS
The sauce taste also very good with addition of stir-fried chicken breast pieces.