INGREDIENTS
2 cups easy cook rice (I used brown one)
5 cups water
100g tomato paste (about ½ cup)
100g creamed coconut (½ bar)
sea salt to taste
250g black eye beans (previously cooked)
½ bunch of fresh coriander / cilantro (chopped)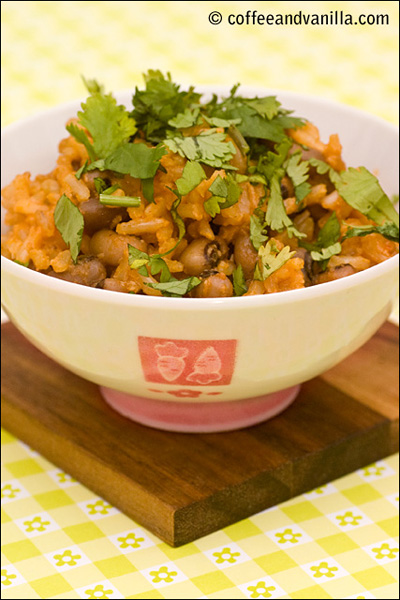 METHOD
Cook beans in plenty of water, once ready leave aside. Those beans cook quite fast and don't require soaking overnight but they cook a little bit longer than rice so it is good to cook them earlier or day before. I usually cook the whole 500g package and then have it for two days.
Place rice, creamed coconut, tomato paste and water in a pot and cook covered stirring occasionally. Once rice is ready stir in beans, season to taste with salt, share to the plates and sprinkle generously with fresh coriander.
Serve as a side dish with some stir fried veggies and / or roasted chicken.
Serve 5-6 people.