This is very simple, yet delicious and healthy home-made chicken noodle soup made from scratch. You won't buy ready noodle soup ever again…
It can be also turned into vegetarian one by replacing the chicken with tofu or skipping it all together and using vegetable stock cubes instead of the chicken ones.
For gluten-free version use rice noodles instead of the egg noodles I used.
INGREDIENTS
500 g chicken breast (if frozen, defrosted)
375 – 400 g packet of noodles (I used medium egg noodles)
couple of garlic cloves (sliced)
3 – 4 tbs oil (I used olive oil)
2½ litre boiling water
3 large (10 g each) chicken stock cubes
sea salt – to taste
2 – 3 carrots (peeled, cut into sticks)
150 – 200 g fresh spinach leaves (washed)
1 lemongrass stalk (light part only, bruised)
handful coriander leaves (chopped)
fresh red chilli (chopped) or some chilli flakes
½ lime (cut into wedges)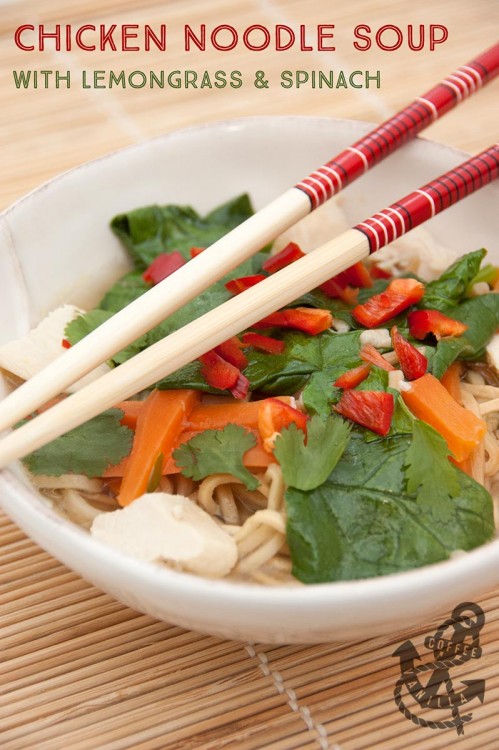 EQUIPMENT
METHOD
In a large measuring jug dissolve the cubes in about 1 litre of boiling water.
Slice the garlic, place in a pot together with oil and fry for a while, until golden brown.
Add chicken, stock, remaining 1½ litre of boiling water and bruised lemongrass stalk (I used little rock candy hammer to smash it) and simmer covered until chicken is soft.
In meantime cut the carrots, chillies or peppers, wash coriander and spinach and leave aside.
Once chicken is ready remove it from the pot, chop and share to the serving bowls.
Add noodles to the stock and cook for couple of minutes, depending how fine they are (medium egg noodles took 4 minutes to cook).
Use slotted spoon or tongues to share noodles to the bowls.
Now add carrots to the stock and simmer for a while until softened but still crunchy. Share to the plates.
Turn off the fire, season soup with salt to taste.
Add spinach leaves to the stock for couple of seconds, only till they are wilted a bit.
Discard the lemongrass stalk.
Share the rest of the soup to the bowls.
Top with chopped coriander and chillies.
Make little cuts in the lime wedges to place them on the plate edges.
Squeeze lime into the soup and enjoy while still hot.
Makes  4 – 6 servings.
NOTES
You can use leftover chicken in this recipe as well.
For kids replace fresh chillies with some chopped red pointed pepper.
If you are looking for more noodle soup ideas here are some interesting ones: Camping Cookng – Chicken Noodle Soup by Jo, Prawn and Coconut Noodles by Bintu, Squash, Carrot & Noodle Soup by Jacqueline, Quick Tom Yum Soup with Poached Egg by Camilla, Grilled tofu, bok choy, red chilli and soba noodle soup (vegan) by Emily or Thai style Squash Noodle & Spinach soup by Laura.
DISCLOSURE: This post contain some affiliated links.