This is very quick noodle soup, almost as fast as making pot noodles, but much more healthy, using fresh veggies, leaves, miso paste and plain tofu which I have fried.
Miso is traditional Japanese seasoning made often from fermented soy beans but also barley, rice and other grains and addition of other ingredients. The Miso is high in protein, vitamins and minerals. The taste, texture, aroma of miso vary from region to region and depends on ingredients, salt content and time of the fermentation. Generally the darker colour of miso is, the stronger and saltier the taste.
The most common types of miso are: white miso (Shiro Miso), yellow miso (Shinshu Miso), red miso (Aka Miso) and mixed miso (Awase Miso).
Miso can be used not only to make soups but also for glazing roasting vegetables, marinating chicken or fish for grilling, for sauces base or as a dip.
If you wonder if miso is vegetarian, the answer depends on the type of miso you are using… Yutaka's Wakeme Miso Soup I used here had bonito fish listed as one of the ingredients except for the wakame seaweed but most of the miso pastes I have seen before did not have any fish it them.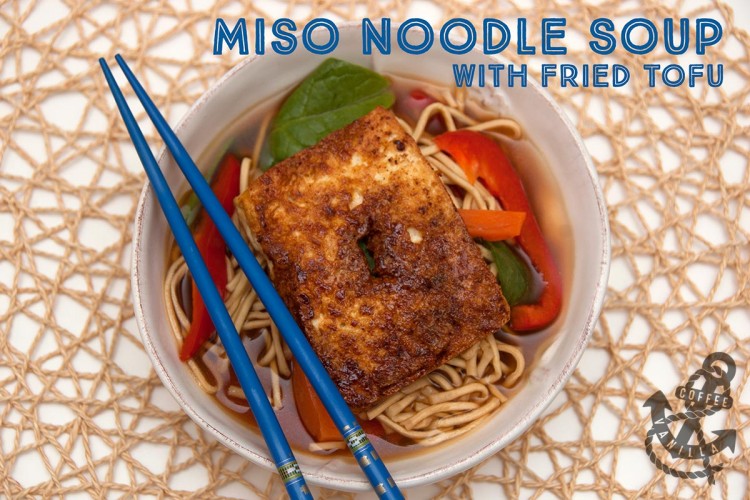 INGREDIENTS
2 litres boiling water
couple of tbs of miso paste – to taste (depending on which miso you are using, some are saltier and more flavoursome than others, used about 90 g of soybean wakame seaweed miso)
2 – 3 carrots (peeled, cut into match sticks)
1 red bell pepper (sliced)
375 – 400 g packet of noodles (I used medium egg noodles)
150 – 200 g fresh spinach leaves (washed)
dark soy sauce
450 – 500 g packet of plain tofu (sliced into 5 – 6 pieces)
oil – for frying tofu (I used olive oil)
salt
pepper
EQUIPMENT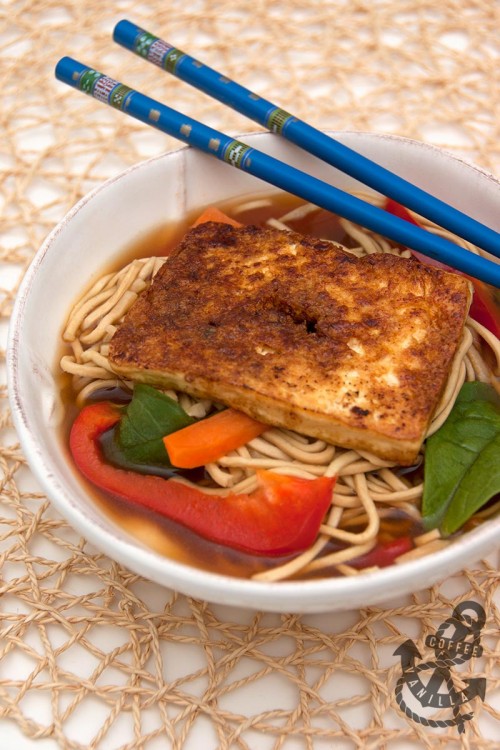 METHOD
First boil water and combine with miso paste in a pot, bring to boil.
In meantime chop veggies, wash spinach, leave aside.
Fry also sliced tofu on oil for couple of minutes until crispy, turn to the other, splash with some soy sauce and fry some more to brown the other side as well.
Add noodles to the pot and cook for about 4 minutes or according to the packet instructions.
Half way through cooking add also carrots and peppers.
Turn off the fire, season soup with pepper and salt to taste if necessary.
Share spinach leaves to the bowls.
Share also the soup.
Top everything with fried tofu and serve immediately.
Serves 5 – 6 people.
NOTES
For my girls, who are not fans of tofu, I have fried egg omelettes, sliced them and used to top the noodles instead.
If you are looking for more miso recipe ideas, then try: Miso Soup with Tofu, Asparagus, Cabbage and Furikake Seasoning from Franglais Kitchen, Japanese Breakfast Skillet with Warm Tomato, Ginger and Miso Sauce from Food To Glow, Green Beans with Tofu, Miso & Sesame Dressing or Simple Miso Cod with Sesame Pak Choi from Kavey Eats.
DISCLOSURE: This post contain some affiliated links.