Blush oranges or blood oranges are natural mutation of the oranges and can vary in colours from just a little streaks of red pigmentation in the flesh to almost black, full blooded flesh. Blood oranges have distinctive flavour, different to regular oranges, and resemble a bit raspberries in taste.
The red / maroon colouring in the oranges is caused by anthocyanin (an antioxidant) and for this reason  blood orange contain greater amounts of antioxidants than other oranges. They are grown mostly in Italy and USA as blood oranges need warmth during the day and lower temperatures at night to develop the anthocyanins.
Blood oranges are in season at different times of the year, depending on location, for instance from December to March in Texas, November to May in California or February to April in Italy.
INGREDIENTS
2½ cups plain flour
250 g of melted butter
1½ cups golden caster sugar
3 large – 4 small eggs
1 cup of milk
1 tbs baking powder
700 g / 6 blood or blush oranges (about 2 cups of fresh with as much as possible membrane removed)
seeds from 1 vanilla pod (do not discard the pod, use it to make home-made vanilla sugar)
EQUIPMENT
mixer
silicone pastry brush
2 baking dishes (we have used two round cake tins lined with baking paper)
wooden skewer
microwavable jug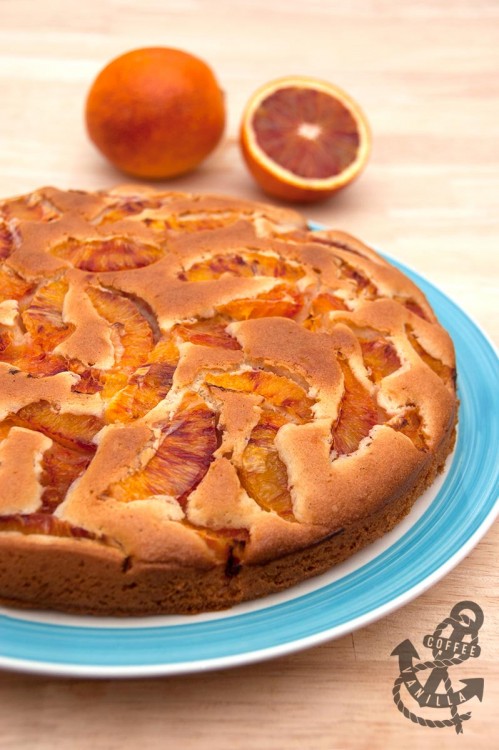 METHOD
Place butter bar in a jug and microwave for about 50 seconds, until completely melted.
With a pastry brush grease baking trays, using a bit of melted butter, leave aside.
In a mixer bowl combine all dry ingredients: flour, vanilla seeds, sugar an baking powder.
Add also milk and eggs and turn the mixer on.
Gradually pour in melted butter and mix a while longer.
Share dough to the baking tins.
Top with orange segments.
Bake in the the oven preheated to 160°C  (320°F) for about 50 – 60 minutes.
Let the cakes to cool down before sharing.
Makes about 18 – 20 servings.
NOTES
This would be also great recipe to make tray bake, if you have large enough baking tray on hand.
Ready cake should be moist but not sticky inside, use skewer to check.
This cake is soft and fluffy inside but sturdy on the outside so would make great dessert for lunch boxes and picnics as well.
If you are looking for more blood orange recipes, then try: Blueberry and Blood Orange Smoothie by Bintu, Creamy Blood Orange and Berry Smoothie (Vegan) by Kellie, Blood Orange Curd Muffins by Helen or Blood Orange Posset by Jeanne.