[inspired by Katka & David]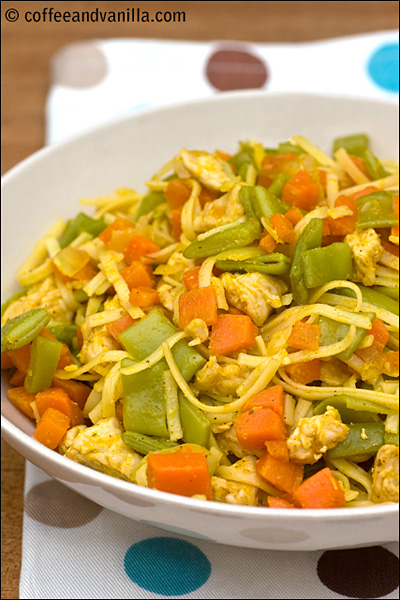 INGREDIENTS
300g fine egg noodles, ramen noodles or any other noodles
400g carrots – 4 medium ones (diced)
100g parsnip – 1 small one – optional (diced finely)
400g flat beans, dwarf beans or other green beans (sliced)
450-500g turkey breast (diced)
1 onion (diced)
2 tbs olive or Carotino oil + some more to season
2 tbs unsalted butter
sea salt to taste
1½ tbs mild curry powder
1 tsp garlic granules
soy sauce to serve
EQUIPMENT
wok or large deep frying pan
large pot to cook noodles and later mix everything together
strainer
METHOD
Place butter, oil, onions, beans, carrots and turkey in wok and stir-fry until veggies are soft and turkey ready. In a large pot boil water, then add to it noodles and simmer for about 5 minutes or according to the packet instructions. Drain well and return to the pot. Stir in also veggie mixture, season to taste with salt, add curry powder, garlic granules and some more oil. Continue heating and mixing until well combined. Serve immediately with some soy sauce on a side.
Make 4 large or 6 medium portions.
VARIATIONS
Use about 300g (3 cups) of easy cook rice instead of noodles, cook it separate and then stir-fry with previously prepared veggie mixture.
Use chicken breast instead of turkey.
Skip the chicken or turkey and once everything is mixed together stir-fry with 6 eggs.
Add coconut cream for extra special taste.