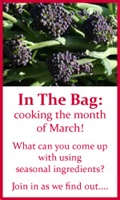 This is my entry for March edition of "In The Bag", joint food blogging event hosted by Scott from Realepicurean and Julia from A Slice of Cherry Pie. The bag contains seasonal Purple Sprouting Broccoli that is in season in UK between February and April. If you want to participate send your entry to Scott before 29th of March. To learn more about Purple Sprouting Broccoli, please read here.
Egg Noodles with Purple Broccoli and Grilled Tofu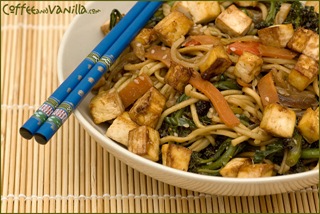 INGREDIENTS
500g firm tofu (cubed)
6 tbs light soy sauce (3 tbs for grilling tofu and 3 tbs for stir frying veggies)
2 tbs olive oil
3 tbs sesame oil or olive oil
800-900g mixed veggies (I used 600g stir fry mix with carrot, sweet bell peppers, courgettes / zucchinis, corn, red onion, bean sprouts and 250g purple sprouting broccoli)
4 nests of egg noodles (330-350g)
boiling water to cook noodles
1-2 tsp garlic granules of few garlic cloves chopped
1 tsp ginger root powder or some fresh ginger finely chopped
3 tbs sesame seeds
METHOD
Combine 2 tbs olive oil and 3 tbs soy sauce in a bowl, add cubed tofu and stir well. Place tofu on non-stick baking tray and grill / roast in the oven in 180°C (356°F) for about 20 minutes till starting to get brown. Prepare also noodles, place them in boiling water and cook for about 4 minutes or according to the packet instructions, drain and leave aside.
In meantime toast sesame seeds on the bottom of wok till golden, remove from the wok, leave aside.
In the same wok stir fry veggies with 3 tbs sesame or olive oil, 3 tbs of soy sauce, garlic and ginger. When veggies are witted, stir in noodles and toasted sesame seeds and stir fry few minutes longer.
Serve to the plates, top with grilled tofu.
Serve 4 people.