INGREDIENTS
8 large eggs (hard boiled, peeled, pat dried) or some thick double cream
2 tbs oil to fry eggs (I used corn oil)
4 x 85 g packs of instant noodles (sachets with chemicals discarded)
2 l of boiling water
1 large parsnip (cut into thin slices or shaved with potato peeler)
4 medium carrots (cut into thin slices or shaved with potato peeler)
4 tbs olive oil to stir-fry veggies
1 tbs garlic granules
¼ small bunch of thyme
10 – 15 tbs spoons of tomato puree (about 100 – 150 g)
4 vegetable cubes (10 g each) or sea salt to taste
black peppercorns
EQUIPMENT
large pot with cover
wok or deep frying pan to fry veggies
small non-stick frying pan with glass cover to cook eggs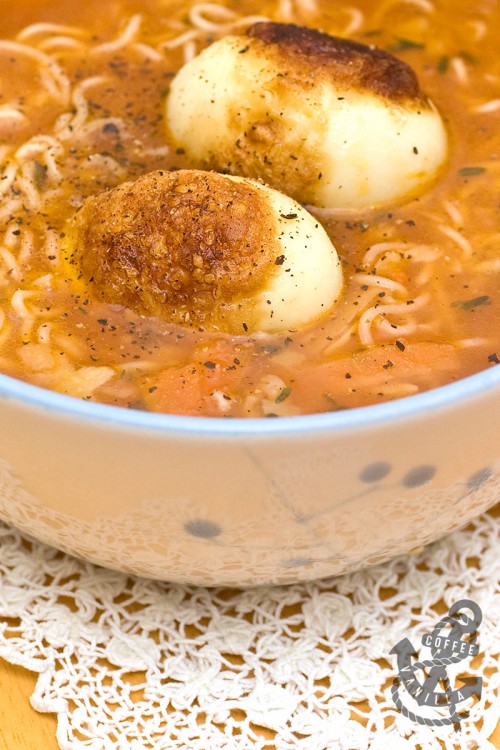 METHOD
Heat corn oil in small frying pan, add eggs and fry covered shaking the pan so each side will get fried. Leave aside.
In a wok fry veggies on olive oil until browned and place, together with water, thyme, cubes, garlic granules, tomato purée, in a pot and bring to boil, then reduce fire, cover and cook for couple of minutes until thyme leaves are separated from the stems and soup has nice flavour, season to taste with salt if necessary.
With slotted spoon take out and discard thyme stems, then add noodles (without the sachets).
Cook covered for 3 – 4 more minutes or until noodles are soft.
Share to the plates topped with fried boiled eggs and sprinkled with freshly ground pepper.
Serves 4 people as a main dish.
NOTES
You can skip eggs and top the soup with generous spoon of thick cream.
Fried boiled egg idea was adapted from Egg Curry recipe that originally came from Cynthia's Tastes Like Home.
If you are looking for more noodle soup ideas, why not try this Pak Choi & Noodle Soup with Lemon Grass.