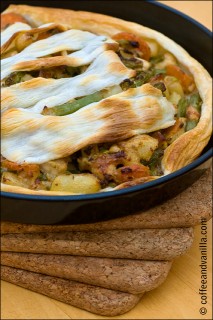 INGREDIENTS
500g ready chilled puff pastry (cut in 4 square pieces)
2 cups chopped leftover Roasted Turkey Breast with Rosemary, Thyme & Sage
2 cups coarsely chopped dwarf beans (green beans) – about 300g
2 cups sliced carrots – about 800g
2 cups cubed potatoes – about 600g
300 ml thick double cream
1 onion (chopped)
3 tbs olive oil
1 tbs chopped fresh herbs: rosemary, thyme, sage (1 tsp each)
freshly ground black pepper to taste
sea salt to taste
garlic granules to taste
hot water
EQUIPMENT
rolling pin
4 non stick round sandwich trays
deep frying pan or wok
METHOD
In a wok combine beans, carrots, onions, potatoes, herbs and oil and cook until onions are potatoes are golden, add water and cook a little bit more until potatoes are soft and there is no more water. Stir in cream, season to taste with garlic, salt and pepper.
From each little square of pastry cut off corners to make them more round and leave aside (for topping), then roll out each piece until 3 mm thick, place on individual trays covering with the pastry sides of the baking dishes.
Top each pie with ¼ of the turkey mixture, then cover with rolled out little pieces of pastry saved on the the beginning.
Bake in the oven preheated to  180°C (356°F) until golden.
Serve immediately.
Serve 4 people as a main dish.
If  you don't have leftover Roasted Turkey Breast with Rosemary, Thyme & Sage just chop some chicken breast and fry in a wok for a while before adding veggies. Double also amount of herbs for better flavour.
For children or for the party make smaller pies, you can easily divide pastry into 9 square pieces and place them on one or two bigger baking trays.
Taste good also served cold.