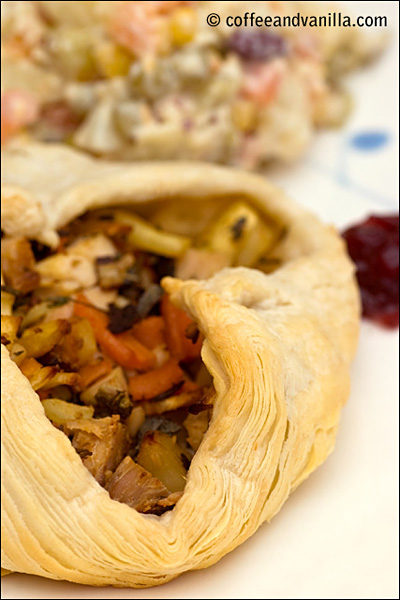 INGREDIENTS
500g ready chilled puff pastry (cut in 4 square pieces)
2 cups chopped leftover Roasted Turkey Breast with Rosemary, Thyme & Sage
3 cups chopped roasted leftover veggies such as: parsnips, carrots and potatoes
1 tbs fresh herbs: rosemary, thyme, sage (1 tsp each)
sea salt to taste
4 tbs unsalted butter or some thick cream
EQUIPMENT
rolling pin
non stick baking tray or tray lined with Telfon sheet
METHOD
Combine chopped turkey with veggies, fresh herbs, season to taste with salt.
Roll out each pices of pastry with rolling pin until 3 mm thick, place on the baking tray, top with ¼ of the turkey mixture, spoon of butter or cream and bring the ends as much as possible together and seal on the top. The pastry will open during the baking.
Repeat the same with other 3 pieces of pastry and the rest of turkey mixture.
Bake in the oven preheated to  180°C (356°F) until golden.
Serve immediately with leftover salad and cranberry sauce on a side.
Serve 4 people as a snack  or lunch.