INGREDIENTS
1800 g piece of boneless turkey breast
for the marinade
juice of 2 lemons
9 tbs freshly chopped rosemary, thyme and sage (3 tbs each)
1 garlic head (peeled and crushed)
3 tbs olive oil or Carotino
2 tsp sea salt
EQUIPMENT
large roasting tray, non-stick or lined with non-stick Teflon sheet
skewer
aluminum foil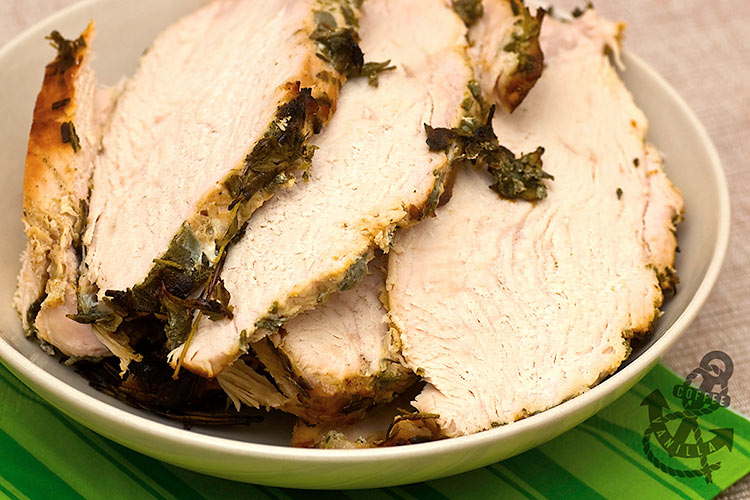 METHOD
Place turkey in a container or freezer bag.
Combine all ingredients for marinade and pour over turkey, close tight and keep in the fridge overnight.
Next day place turkey together with the marinade on roasting tin, cover with the aluminum foil and bake in the oven preheated to  180°C (356°F), turning from time to time, until almost ready.
Remove aluminum foil towards the end and bake some more – about 2½ hours all together.
Check with the skewer if the turkey juices are running clear before removing from the oven.
Slice and enjoy.
Serves 16 people or family of four for 3 days.
TIPS
Serve with some cranberry sauce and/or onion chutney on a side, some salad and roasted veggies.
NOTES
I made with leftover turkey Creamy Leftover Turkey Pie with Carrots & Green Beans and Leftover Turkey & Roasted Veggies in Puff Pastry.