[inspired by my friend Lidka who reminded me of this childhood recipe]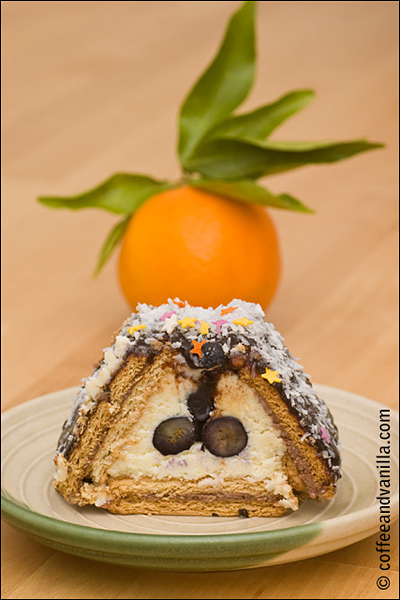 INGREDIENTS
for the cake
bar of unsalted butter – 250g (softened)
500g white curd cheese or hard ricotta (mashed with a fork)
few tbs of milk – optionally
1 cup icing sugar
2 tbs vanilla sugar
2 tsp unsweetened cocoa powder
60 pettit beurre biscuits
200g fresh fruits (I used blueberries)
for the glaze
half a bar of unsalted butter (125g)
3 tbs unsweetened cocoa powder
5 tbs golden caster sugar
1 tbs or a little bit more milk or water
grated coconut and/or sprinkles
EQUIPMENT
food processor
silicone brush
spatula
thick aluminum foil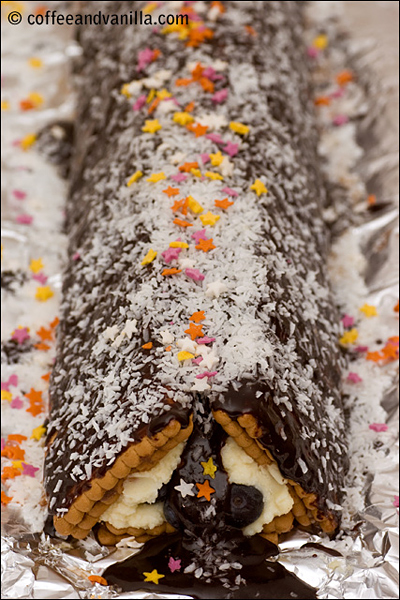 METHOD
On a long piece of aluminum foil place vertically 3 rows of 10 biscuits.
In a food processor cream butter with vanilla and icing sugars. Once they are well combined add also cheese plus a little bit of milk if the mixture is too dry to spread on the biscuits with spatula.
Take ⅓ of the cheese mixture and add to it cocoa powder, stir well and spread it on the biscuits, making sure there is no space between them and that all are covered evenly.
Top it with another layer of 30 biscuits and spread on the top of it all the rest of cheese mixture.
Now place all the way in the middle row fruits and then  using the foil bring both sides of the house together to create long triangular shape. Cover the whole cake with aluminum foil and carefully place in the fridge (it should fit across the shelf) for 24 hours.
Next day remove cake from the fridge, open aluminum foil but do not remove it.
In a small saucepan melt butter with sugar, milk and cocoa powder, stir constantly until well combined, remove from fire and continue stirring until chocolate glaze has thick consistence. Using the silicone brush pain the whole house with the chocolate, pour the rest over the top of the house, sprinkle with grated coconut and/or sprinkles.
Do not wrap sides in the foil, place back in the fridge until chocolate is dry enough to share the cake or wrap it and put it back in the fridge for later.
Make about 10-15 portions.