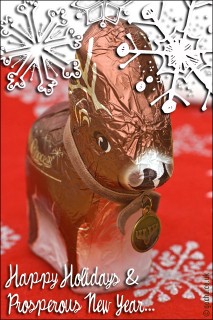 Just a short post to wish all of you my readers, friends & family –  Happy Holidays & Prosperous New Year 2010! May all your wishes and plans come true!!! Enjoy your holidays and don't forget stop by to let me know how it was :)
I will be posting more recipes during and just after Christmas but here is preview of  our menu:

for the 25th of December

on 26th of December – we will be eating leftovers

New Year's Eve – no precise plans yet but probably

stuffed eggs with mushrooms (I will post recipe soon)
12 Grapes on skewers with white wine/grape juice
Cookie houses, chocolate reindeer… etc.