[made by my 4 year old daughter – Marissa]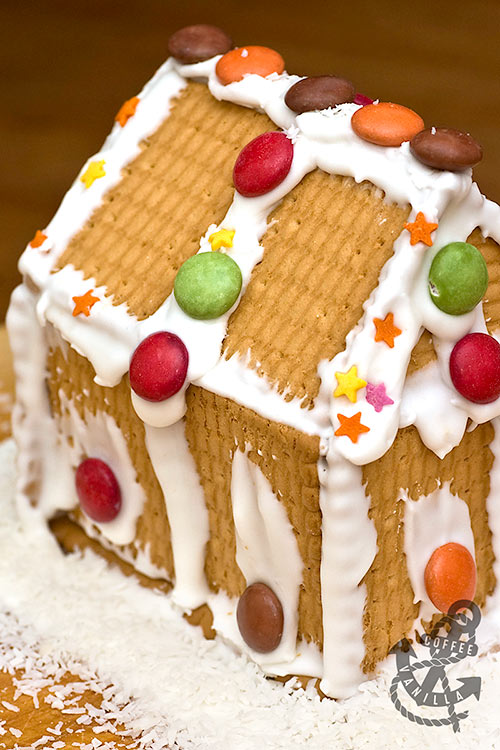 INGREDIENTS
3 x 18 petit beurre biscuits (plus few extra just in case)
colourful candies, jellies or whatever you can think of
colourful sugar sprinkles
grated coconut (for the snow)
for the icing
3 cups icing sugar
2 egg whites
2 tsp of water or lemon juice
½ tsp cream of tartar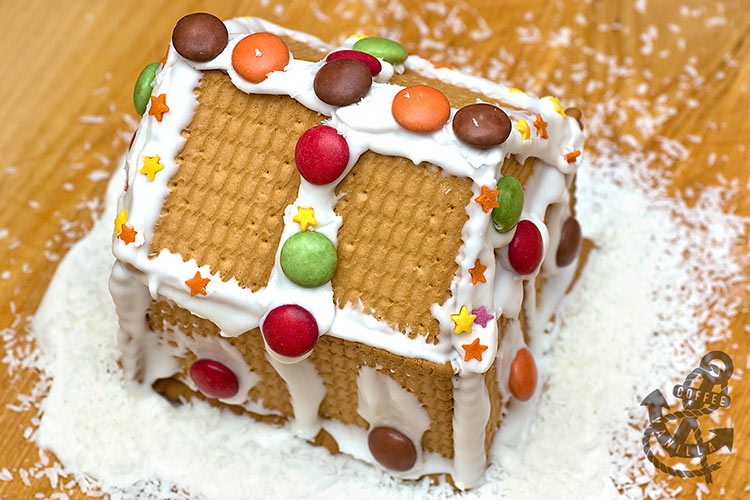 EQUIPMENT
cake bases or chopping boards
small spatula
food processor
METHOD
Place all ingredient in a food processor and whisk until well mixed and sticky.
You will need 18 biscuits to create each house.
Place 4 biscuits on the cake base or the chopping board and stick them together, that will be the base of the house.
Then take 8 biscuits, dip each side of the biscuits in the icing and stick to the base (inside out to hide writing on the cookies) to create the house walls. Let it settle down a little bit before constructing the roof.
To create the roof cut 2 biscuits into triangles. Dip widest side in icing and stick them on narrower ends of the house, then place remaining 4 biscuits to create the roof.
Once everything is steady add some more icing to cover all holes and imperfections.
Decorate with candies and sprinkles.
Sprinkle generously with grated coconut.
Repeat the same with the rest of the ingredients to create more houses.
Make 3 small houses.
UPDATE 26/12/2016
We made "gingerbread" cookie houses again this time with my older one who is now 11 and the younger one who is 6, results below…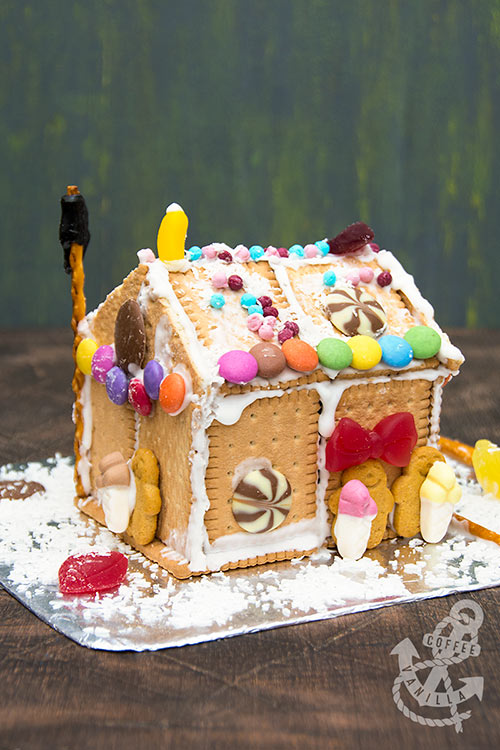 house by Ella (6 years old)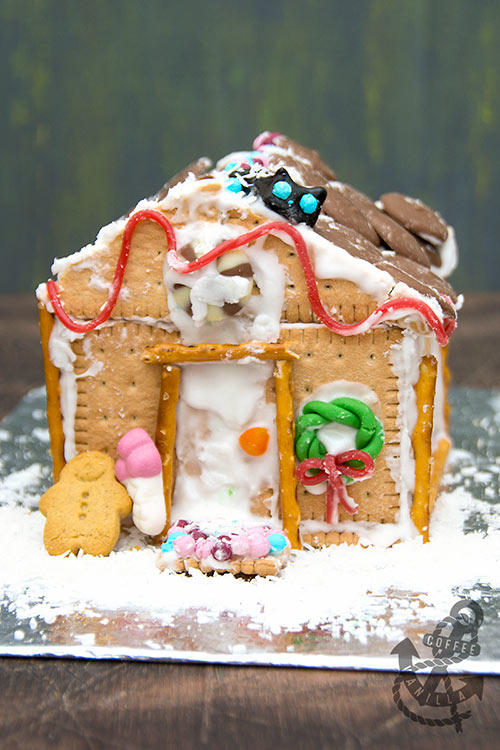 house by Marissa (11 years old)
TIPS
If you are planning to eat the houses afterward and are worried about safety of eating raw eggs in the icing, you can microwave the icing mixture for about 30 – 40 seconds.
Cake bases can be made at home by sticking aluminium foil onto pieces of cardboard.
NOTES
For more Christmassy recipes take a look at our Must Try Festive Recipe Ideas.
For festive house decor projects visit Easy DIY Xmas Home Décor Ideas.
Making cookie "gingerbread" houses become tradition in our house, therefore I'm adding this to the Inheritance Recipes link-up that we co-host together with Solange of Pebble Soup. January Inheritance Recipes is hosted by us, please come and join us, share your inherited recipes!