My husband and I we hardly ever drink anything alcoholic but when we do we like it to be a bit more elaborated than plain beer or glass of wine… and that's when knowledge how to make couple of easy cocktails comes very handy.
Since we moved out from London to outskirts of Brighton we don't have many friends visiting, we meet them at the seafront but hardly ever anyone come all the way to our place… So when someone finally does, it is a big event, like when our long time friend Chris visited recently.
We had wonderful time just chatting, playing with building blocks, enjoying chilli con carne for dinner followed by some spiced Cuban classics – mojito cocktails!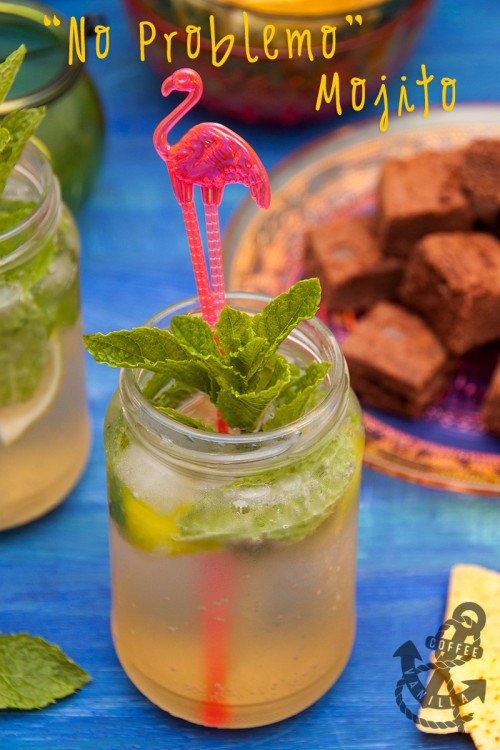 Making cocktails together was great fun and we will definitely will be repeating evenings like this more often… We may even learn how to make few more drinks from thebar website, especially if they are as easy as the mojitos – no special equipment required just couple of glasses or even jam jars and on hand ingredients (recipe below).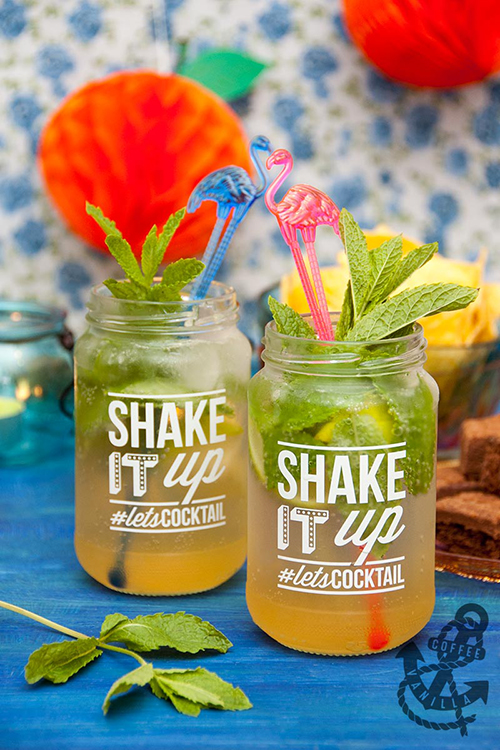 The "No Problemo" mojito has been adapted from thebar.
INGREDIENTS
50 ml Captain Morgan Original Spiced Gold rum
15 ml lime juice (2 – 3 lime wedges / ½ lime)
2 tsp caster sugar
7 mint leaves + 1 whole mint sprig for garnish
100 ml sparkling water
handful of ice cubes or some crushed ice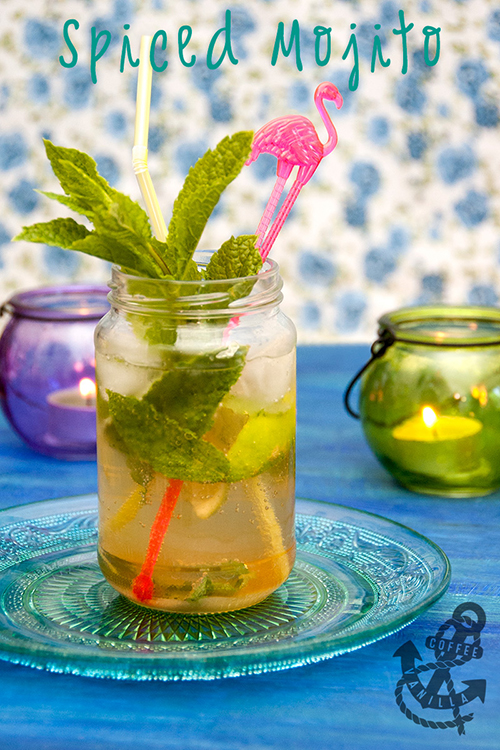 EQUIPMENT
knife
chopping board
bar spoon or any long spoon really (we used wooden one)
jigger or other measuring tool you have on hand
stirrers and straws – optional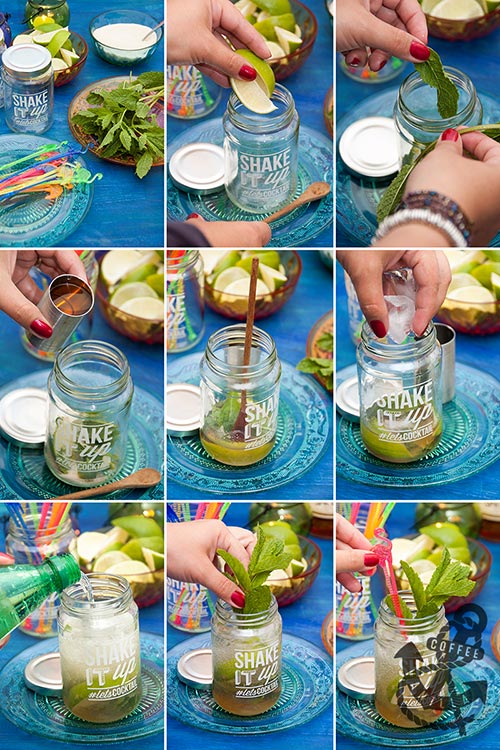 METHOD
To the glass or jar add rum, lime wedges, sugar and mint, mix and mash with a spoon until juice is squeezed out of lime and all sugar dissolved.
Add cubed or crushed ice and sparkling water, then stir.
Serve it topped with spring of fresh mint, stirrer and optionally straw.
Enjoy!
Makes 1 cocktail.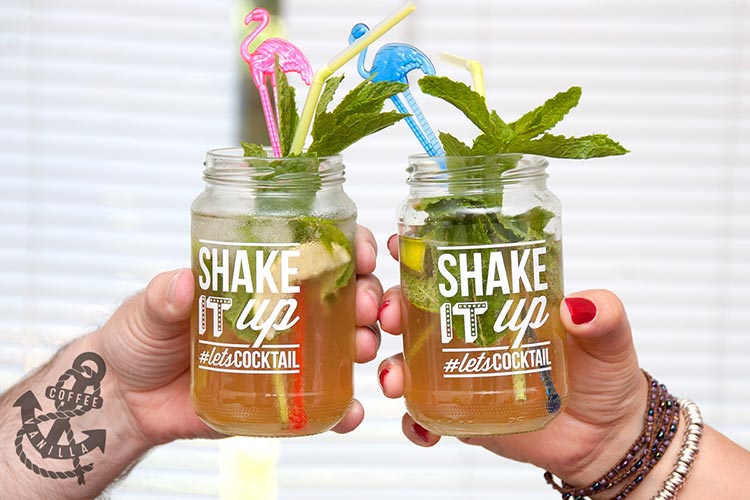 If you decide to make mojito or different cocktail do share it on social media using #letsCocktail hashtag for a chance to win prizes from thebar.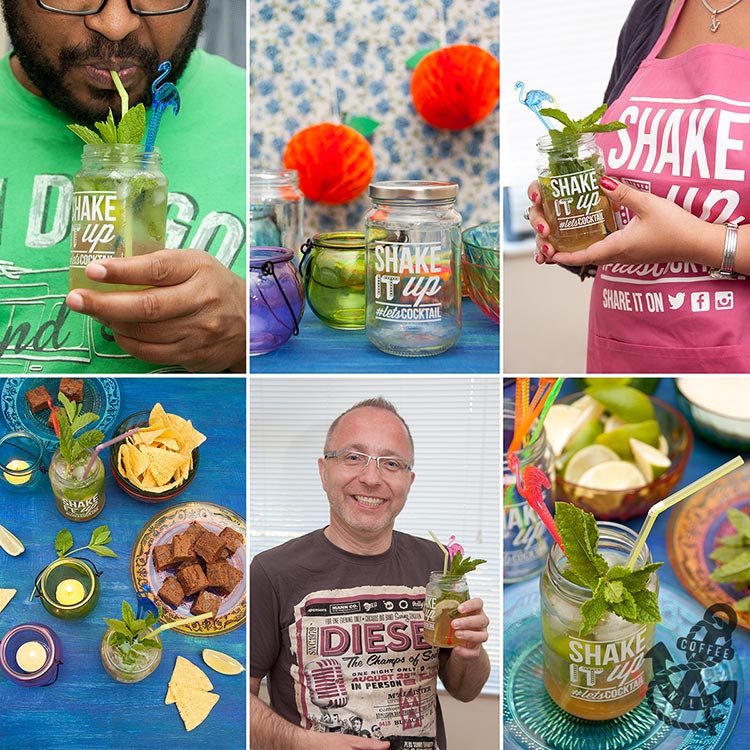 Want to learn how to make mojito cocktails even faster? Watch this video! :)
NOTES
For non-alcoholic version for kids just skip the rum. Fresh mint and lime with addition of some sparkling water makes very tasty and refreshing Summer drink.
When preparing mojito cocktails for more than few people you may want to speed the process by making sugar syrup – in hot water dissolve as much sugar as possible (about 2 times the amount of water), use in cocktails instead of sugar.
If you are looking for more party ideas take a look at drinks that my friends prepared: Cucumber Gin & Tonic by Kate, Eldeflower & Coocnut Gin Martini by Helen, Good Ol' Whisky Ginger by Emily, Smirnoff Raspberry Collins by Jen, Pimm's no1 & Lemonade Cocktail by Bintu or Spiced Mojito by Sarah.
DISCLOSURE: This is commissioned post for thebar.com and their #letsCOCKTAIL campaign. All opinions expressed here are our own and we retained full editorial control.
Please drink responsibly and don't exceed recommended safe alcohol unit limits.