This is extremely easy to make and healthy mango and chocolate sorbet recipe that calls only for two ingredients… and there is no ice cream machine required to make it. It contains pure mango purée and chocolate pieces, nothing else (!) No dairy, no gluten and can be sugar free, too.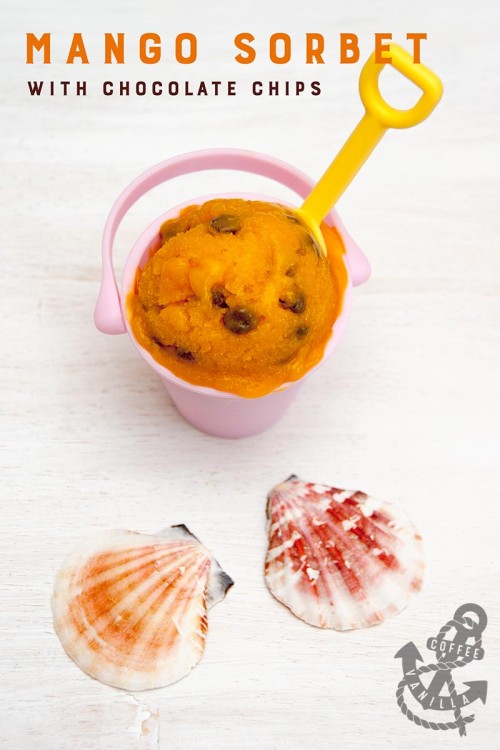 INGREDIENTS
850 g mango pulp from the tin or some fresh mangoes (peeled, de-seeded and blended)
100 g / handful of chocolate chips or some chopped chocolate bar (check ingredients for gluten-free and dairy free chocolate)
EQUIPMENT
plastic mixing bowl or other freezable container
spoon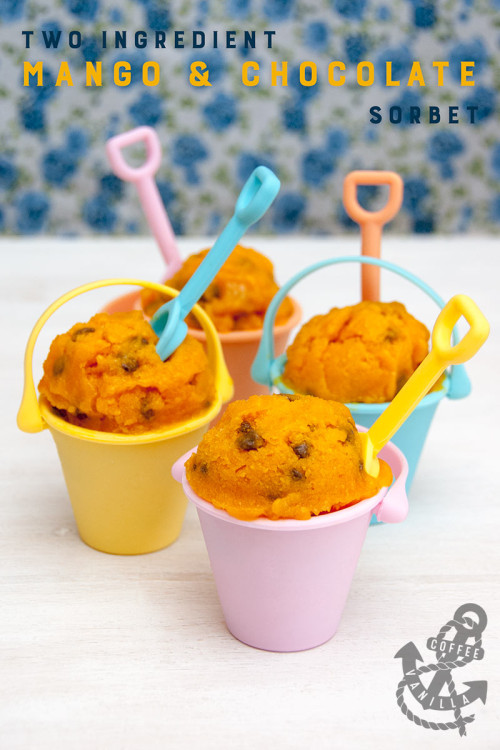 METHOD
In a container combine mango pulp with the chocolate chips.
Place in the freezer. To make sure that the chocolate chips are spread evenly and sorbet has smooth consistency stir every 30 minutes, for about 3 hours or until it is too thick to mix.
A while before serving remove from the freezer and leave aside to let the sorbet soften a bit.
Share and enjoy.
Makes 8 small or 4 bigger portions. 
NOTES
For sugar-free version use fresh mangoes rather than tinned pulp as some contain added sugar.
Looking for more sorbet recipes, check out Helen's Blackberry, Apple & Thyme Sorbet or Bramble Sorbet Icicles I made while ago.
More Summer recipes and ideas.
More desserts.