I meant to try overnight oats for ages, I mean really for ages, years probably now… but for some reason I could not come around to do it until couple of weeks ago when I decided that I'm fed up with my usual cooked oats…
At first I tried to soak them in water and then add dash of regular milk in the morning, it was fine but not as tasty as I would expect. Next I tried them with milk alone but the oats turned out too slimy to my liking. The third time I made them with almond milk and my oats were almost perfect until I discovered almond & coconut milk which is my favourite now! Coconut milk alone works here as well.
This is very simple gluten-free and dairy free recipe with an apple and some almond flakes for extra crunch, some more overnight oat versions coming soon.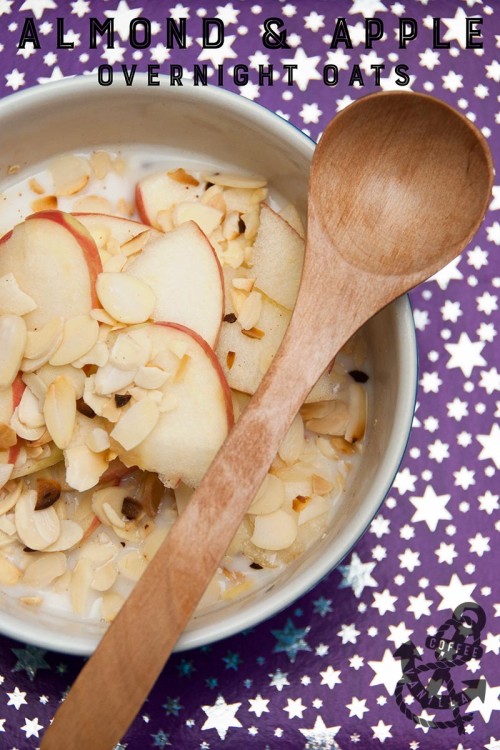 INGREDIENTS
1 cup of milk of your choice (I used here almond & coconut milk)
½ cup of oats
1 apple (chopped)
1 – 2 tbs toasted almond flakes
EQUIPMENT
fridge container or bowl with some cover (I often use oversized freezer container so I can later treat it as a bowl and in the morning mix the other ingredients in)
METHOD
In the evening add milk and oats to the container and place in the fridge.
In the following morning remove it from the fridge and leave aside for a while to get a bit warmer.
Add chopped apples and almond flakes.
Stir and enjoy.
Serves 1.
NOTES
More healthy breakfast ideas.
More Summer recipes.
If you looking for more overnight oat recipes, check out Emily's Strawberry and Coconut Overnight Oats, Emily's Strawberry and Coconut Overnight Oats or Nadia's Banana Peanut Butter Overnight Oats.