[recipe adapted from "Mainly Vegetables" by Colin Spencer]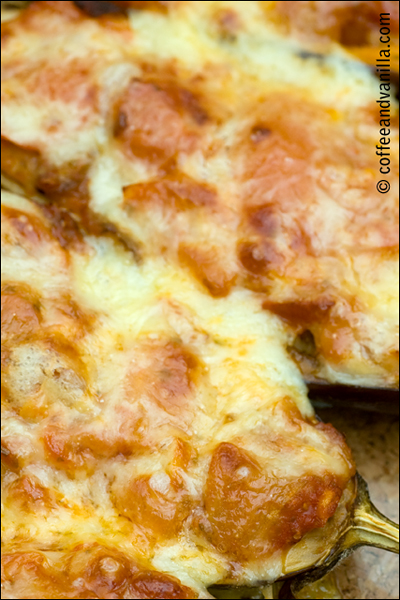 INGREDIENTS
2 medium or 3 smaller aubergines / egg plants (cut in halves, lenghtwise)
400g tomatoes (chopped)
3-4 garlic cloves (chopped)
3 tbs olive oil
1 tbs dried oregano or basil
2 tbs tomato purée
sea salt
black peppercorns
100g cheese (sliced) – I used extra mature Cheddar
EQUIPMENT
brush
oven proof dish or baking tray lined with Teflon sheet  – I used large Pyrex dish
sharp spoon or melon baller to scoop out aubergine flesh
frying pan
METHOD
Preheat the oven to 200°C (392°F).
Scoop out aubergine flesh using sharp spoon on melon baller, chop and place in the frying pan, together with tomatoes, garlic, oregano and 2 tbs of olive oil, fry until soft to your liking.
Add tomato purée, season to taste with salt and freshly ground pepper, mix well.
In meantime brush aubergine skins inside with 1 tbs of olive oil and place in the oven for about 15 minutes.
Then re-fill aubergines with tomato mixture, top with cheese and place back in the oven only until cheese has melted and browned.
Serve as a side dish with some meat or as a snack / lunch with some salad on a side.
Serves 4-6 people as a side dish or 2-3 people as a snack.
Looking for more roasted eggplant recipes?
This this very easy roasted aubergine dip from Cook Sister.