INGREDIENTS
for the lemon muffins
2 large or 3 smaller eggs
½ cup golden caster sugar
½ bar unsalted butter – 125 g (melted and cooled down)
1½ cup self rising flour
2 tsp natural lemon extract
for vanilla butter cream
¼ bar unsalted butter – about 70 g
2 cups icing sugar
2 pinches of fine sea salt
¼ cup full fat milk
½ tsp vanilla extract or 1 tbs vanilla sugar
few drops of food colouring – optional (I used natural pink food colouring made of beetroot juice)
micro sugar coated speckled chocolate eggs or other Easter decorations
EQUIPMENT
baking tray for 12 muffins
12 paper muffin cases
electric whisk
piping syringe or just a knife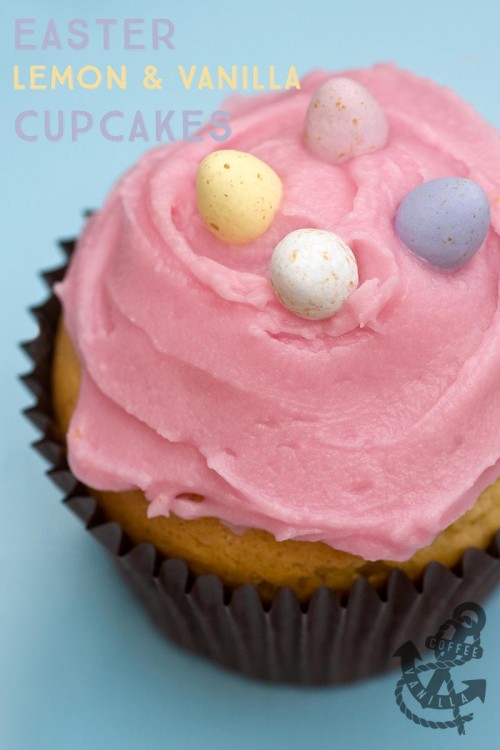 METHOD
Preheat oven to 180°C (356°F).
Whisk eggs and sugar until fluffy, slowly fold in flour, lemon extract and melted butter and mix well.
Scoop out mixture into muffin cases and bake in the oven for about 15 minutes or until golden brown.
Remove from the muffin tray and leave to cool down.
When muffins are completely cooled down cream together all ingredients for vanilla butter cream except food colouring and sprinkles.
Once butter cream is smooth add colouring gradually to achieve desired colour.
Top each cake with generous portion of the cream, spread it nicely with a knife or piping syringe, decorate with speckled eggs and place in the fridge for couple of hours.
Makes 12 cupcakes.
NOTES
When making muffins add few drops of milk if dough is too thick to scoop out easily.
Cupcakes can be easily stored overnight in air tight container in the fridge.
This recipe is almost identical with Vanilla Fairy Cakes except for lemon extract and Easter egg decorations.