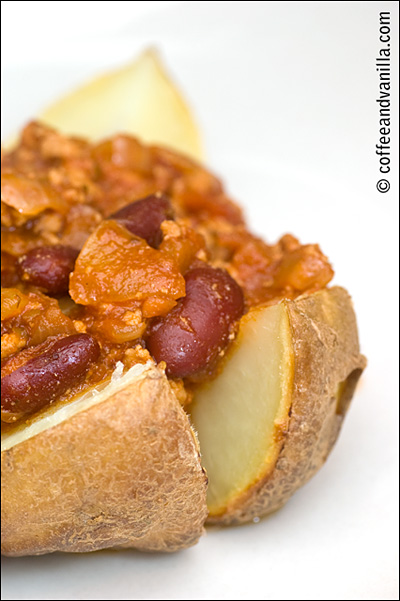 I'm very late with this post but it is great dish for any cold evening not only Bonfire Night…
INGREDIENTS
450 – 500 g minced meat (I used turkey)
2-3 onions (chopped)
3 tbs oil (I used grapeseed oil)
2 tbs paprika powder or even better smoked paprika
1 tbs garlic granules
1 tsp (or more) chilli flakes
2 vegetable cubes (10g each)
2 chicken cubes (10g each)
1 tbs dried oregano
3-4 tbs tomato paste / 140g tin or even better sundried tomato paste
2 tsp soft dark brown sugar
1½ cups of hot water
400g tin of chopped tomatoes
400g tin of red kidney beans (drained)
4-6 large baking potatoes to serve
crème fraiche, soured cream or grated cheese to serve – optional
METHOD
Make cross cut on the top of each potato and place them in the oven preheated to 200°C (392°F)  and bake for about an hour or longer, until very soft inside (check with the skewer).
In meantime fry meat and onions on oil onions are until browned. Reduce fire, add paprika and garlic and fry some more. Then add the rest of ingredients and cook for about 30 minutes until liquid is almost completely reduced.
Serve over baked potatoes, optionally top with crème fraiche or soured cream or sprinkle with some grated cheese.
Make 4-6 portions.
NOTES
Any left over chilli con carne can be used next day to make Sloppy Joe sandwich.
Taste good also served over the rice instead baked potatoes.
Bonfire night is celebrated in England on the 5th of November, also known as Guy Fawkes Night.