Couple of weeks ago I've been invited to L'atelier des Chefs in London for the launch of NuMe – new healthy products range from Morrisons. I shop in their supermarket on daily basis so I was very curious to find out more about the brand.
We met Morrisons' nutritionists, chefs, brand managers & experts who gave us insight into how the NuMe was developed, everyone was so nice and down to earth!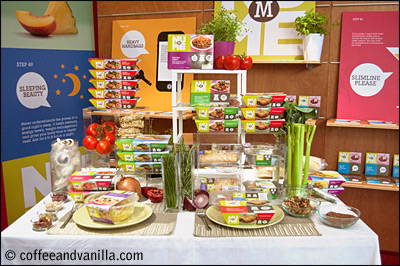 According to National Diet & Nutrition Survey only one third of adults in UK currently manage to achieve recommended 5 a day. We are all eating way too much sugar, salt, saturated fats and not enough fibre & Omega 3.
That is why Morrisons in this new range of products introduced easy to spot icons with simple labelling system informing about amount of calories per serving, fat, protein, fibre and vegetable content.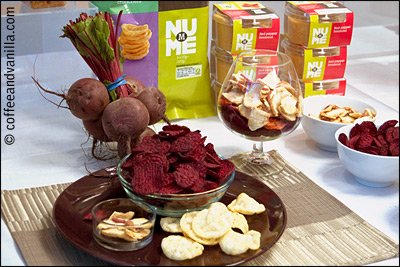 In addition to being healthier NuMe products cost about the same as their less healthy alternatives and they are very tasty. Pictured above beetroot, apple, carrot and rice crisps were one of my personal favourites.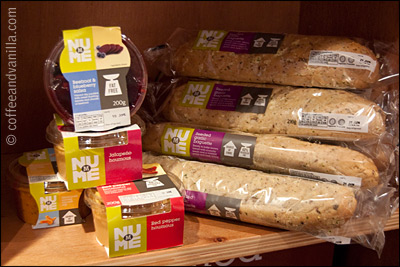 During the event we were served 3 course meal that had only 585 calories, included 3/5 a day servings of fruit and veg, was high in protein, high in fibre and low in fat, including saturated fats.
For the starter we had bulgar wheat and quinoa salad with beetroot and blueberries, topped with beetroot & carrot crisps.
Pea, Asparagus and Mint Bulgar Wheat and Quinoa Snack Pot (£1.19 / 70g)
Beetroot, Yoghurt & Mint Dip (£1.40 / 200g)
Blueberry and Beetroot Salsa (£1.40 / 200g)
Beetroot Crisps (£0.70 / 20g)
Carrot Crisps (£0.70 / 20g)
The salad was very tasty, the Blueberry and Beetroot Salsa was enhancing it's flavour too. And crisps with the dip were just delicious. I wouldn't mind having this starter for snack every day.
I will be also using Blueberry & Beetroot Salsa in my cheese sandwiches (!)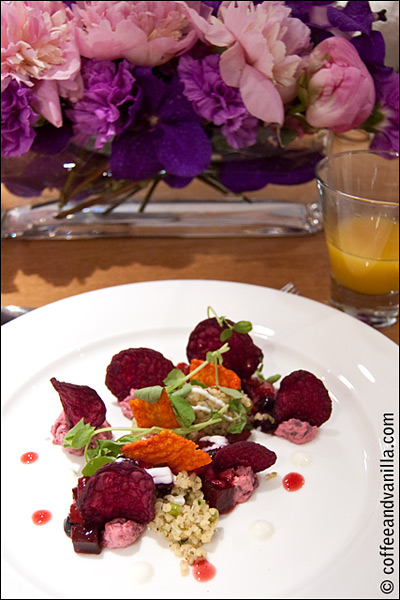 The stater was followed by pea and mind soup.
Pea and mint Cuppa Soup (£0.69 / 4 portions)
It was better than expected considering it was made of powdered soup.
The main dish contained grilled sea bass with risotto, spinach and Italian bean stew.
Sea Bas with Spinach and Parmesan Risotto (£4.99/ 2 portions)
Italian Bean Stew (£175/400g)
I really enjoyed it, especially the Italian Bean Stew and will be definitely buying it to complement our meals.
For pudding (dessert) we had iced fruit smoothie with berry shot.
Frozen Raspberry and Strawberry Smoothie (£2.50 / 4 pack)
Red Berries Shot (£1.79 / 4 lollies)
The dessert was a bit strange because it was bubbling and steaming from added dry ice… The fruit lolly was actually kind of nice, very refreshing however I would prefer some coffee with a brownie instead to finish such a delightful meal ;)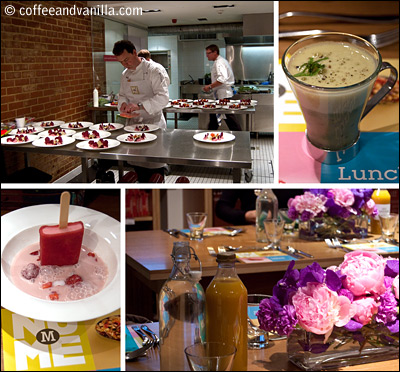 Some of NuMe products already are and others soon will be available in Morrisons branches, placed on the shelves next to regular products to give you healthier alternative while making shopping easy and affordable.
After the event we have been given home some of the NuMe products in our goodie bags, one of them was Mango and Pink Peppercorn Dressing (£1.30 / 150ml) which I truly adore, it taste great with salad leaves.
The other one worth mentioning is Lime and Lemon Grass Dressing (£1.30 / 150ml) which is superb for chicken salad.
Beetroot and Balsamic Vinegar Dressing (£1.30 / 150ml) is delicious with tomatoes.
Couple of tips I learned from Morrisons' experts:
You can lower your salt intake enhancing the flavours with lemons, oranges, other fruits and vinegars instead.
Carry flask of water with you to reach recommended 1.5 litres a day and feel less hungry.
Omega 3 fatty acids are very important for your brain power.
Use vegetable purées such as carrots, sweet potatoes or rice instead of cream to thicken sauces and soups.
Breakfast is a very important meal, means "break a fast", our body can't work on full speed without fuel.
With thanks to Morrisons & Abby, Louise, Lynne from Pegasus PR to for the invitation to the even on the 12th June.