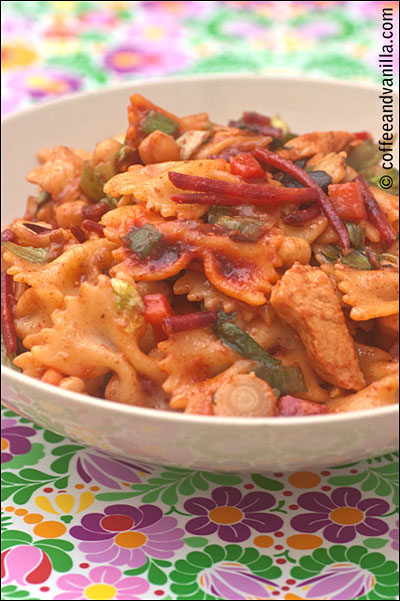 INGREDIENTS
500g chicken breast (diced)
500g pasta
a little bit of butter or oil to fry onions
1 large onion (diced)
1 red or yellow bell pepper (diced)
3-4 spring onions (chopped)
150-200g of salad leaves – I used bistro leaf mix with shredded beetroot pieces (bigger leaves shredded)
400g tin of chick peas (drained)
1 tbs or more tandoori masala seasoning powder
4 tbs extra virgin olive oil
pinch or two of Cayenne pepper – optional
sea salt – to taste
METHOD
In a large salad bowl combine about 4-5 tbs of olive oil with 1 tbs or a bit more of tandoori masala powder, optionally add also Cayenne pepper.
Cook pasta, drain, add to the salad bowl with mixture of olive oil & tandoori masala seasoning, stir and leave aside.
On a frying pan fry onions on butter until golden.
Add chicken and fry some more, cover the frying pan and continue cooking until chicken is cooked through and there is no more liquid.
Fold in spring onions and fry only few seconds longer.
Combine chicken mixture with pasta.
Add also the rest of ingredients: bell pepper, chick peas and salad leaves at the end, when the pasta and chicken are not so hot any more.
Mix well, season to taste with salt if necessary.
Share to the plates and enjoy.
Serve 4-6 people.