This is our favourite (at the moment) basic bread roll dough recipe that we use for various types of bread roll and topped breads as well. There is no special tools needed and no kneading is required. All you have to do is to mix yeast, water, some salt, sugar and flour… that's it!
Kajzerki (kajzerka if singular) accompanied me my entire childhood but unlike the original Austrian Kaisersemmeln (emperor rolls), Polish kajzerki are shaped round and then the top is cut to make the pattern rather than plaited. Folding the dough into plait would not work with this recipe anyway as it is way too soft to roll it.
INGREDIENTS
1 kg flour (choose your own favourite mix, for the basic recipe we use 500 g white bread flour and 500 g plain flour)
3 tbs instant yeast or piece of fresh yeast (about 25 g)
650 ml lukewarm water
½ tbs sea salt
½ tbs sugar
extras
a bit more flour for shaping the bread rolls
some olive oil – optional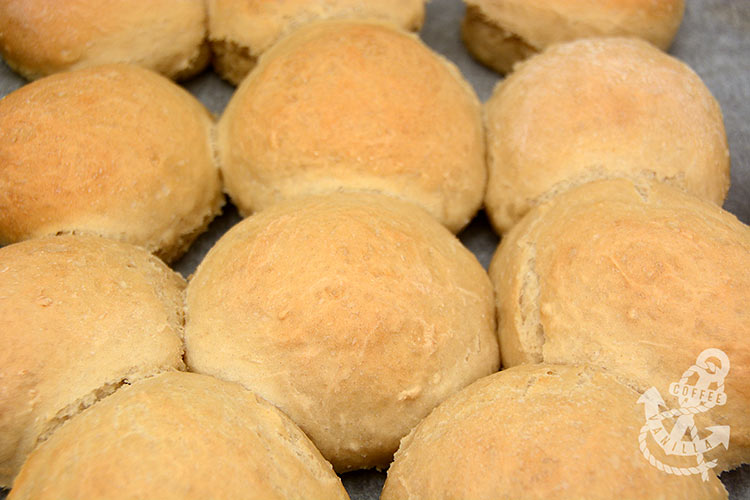 EQUIPMENT
large baking tray lined with baking paper
smaller oven proof container for water
container with lid (about 5 liter size)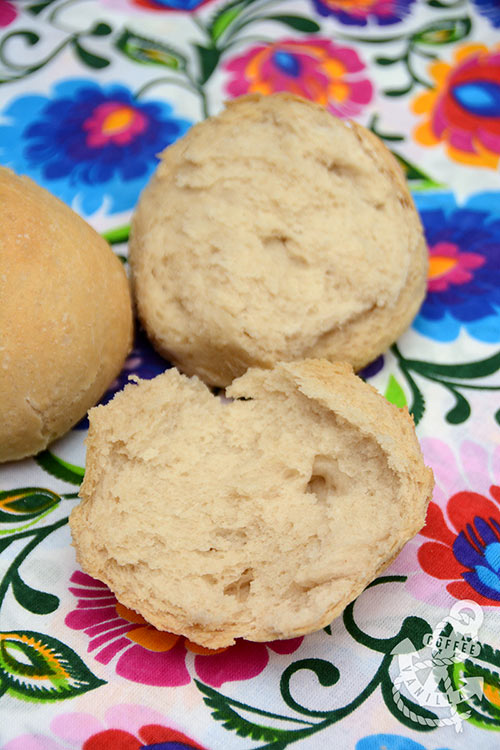 METHOD
First place yeast in a container, add warm water, salt and sugar and continue stirring until all yeast is dissolved.
Add flours, using wooden spoon or hands mix the dough until it looks even.
Cover with the lid, but do not seal it or cover container with kitchen towel.
Leave for at least 30 minutes (or until the dough will double the size), you can also leave it overnight on the kitchen counter, it will be ready to bake in the morning.
To shape kajerki take a piece of dough with floured hands, shape it and place on baking tray. Repeat this step until there is no more dough left. Optionally rub the rolls with some olive oil as well.
Make cross cuts on the top of each roll, if you want to. Not making the cuts won't affect the taste of rolls.
Cover roll with the kitchen towel and let it rest for another 15 minutes. In a meantime preheat the oven to 200°C (392°F), make space on the top shelf and on the bottom one place container with water.
Bake for about 30 minutes or until golden brown.
Makes about 12 – 14 regular size rolls.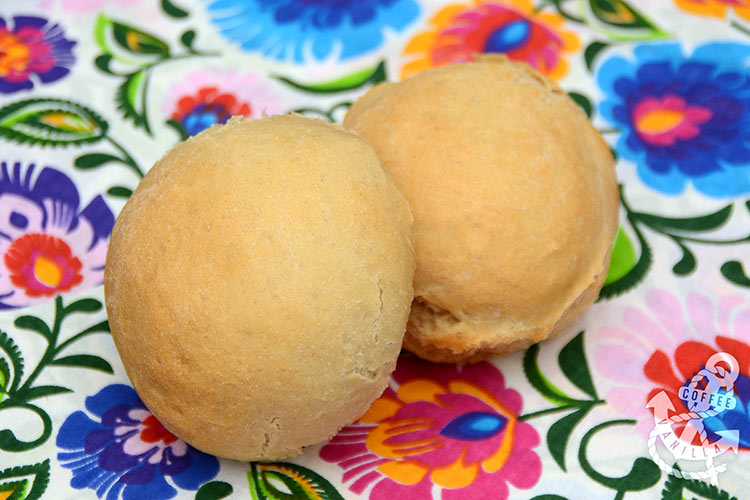 TIPS
If you don't want to use the whole dough at once, simply make as many rolls as you need and place the rest of the dough in the fridge, cover but do not seal the lid.
Any fresh yeast leftovers can be saved for later, share them into 25 g pieces, wrap in a cling film and place in the freezer. Defrost in a room temperature before usage.
White bread flours can be replaced with wholemeal bread flours or seeds can be added.
They taste great with Polish vegetable salad.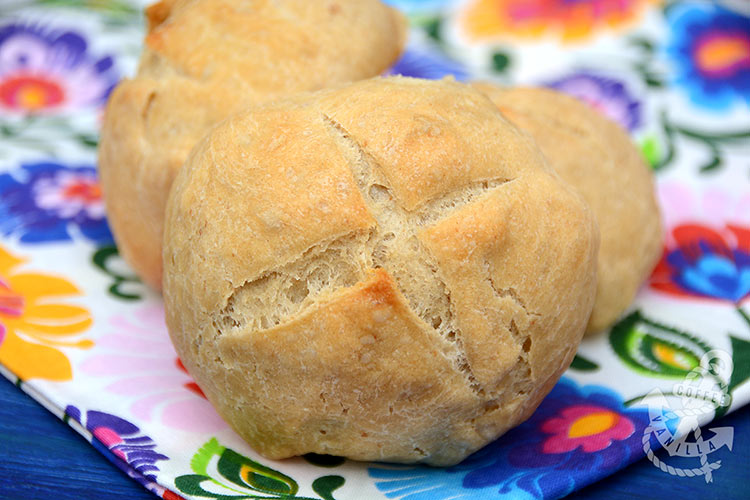 NOTES
Recipes based on kajzerki dough: Focaccia Style Cheesy Onion Breads.
If you are looking for more Polish recipes we have the whole section dedicated to Polish cuisine.
For all things Polish visit our sister site: BIGOS UK.
I'm submitting kajzerki recipe to our  Inheritance Recipes link up hosted in March still by us until the end of the month to pass it onto Solange of Pebble Soup on the beginning of April.