This is traditional Polish recipe for vegetable salad using lots of root veggies and mayonnaise that accompany almost any Polish party and holidays such as Christmas Eve or Easter.
INGREDIENTS
1 kg carrots (peeled)
500 g parsnips (peeled )
500 g tin of non flavoured and non coloured peas (drained)
400 g tin of sweet corn (drained)
400 g tin of kidney beans (drained) – optional
500 g potatoes (with skins)
900 g jar of cucumbers in brine / Polish sour cucumbers, not the pickles (about 400 g when drained)
3 – 4  medium apples (about 400 g)
piece of celeriac (about quarter) – optional
400 ml jar of mayonnaise
freshly cracked black peppercorns  – to taste
sea salt  – to taste
mustard (I used whole grain mustard) – to taste
2 tbs butter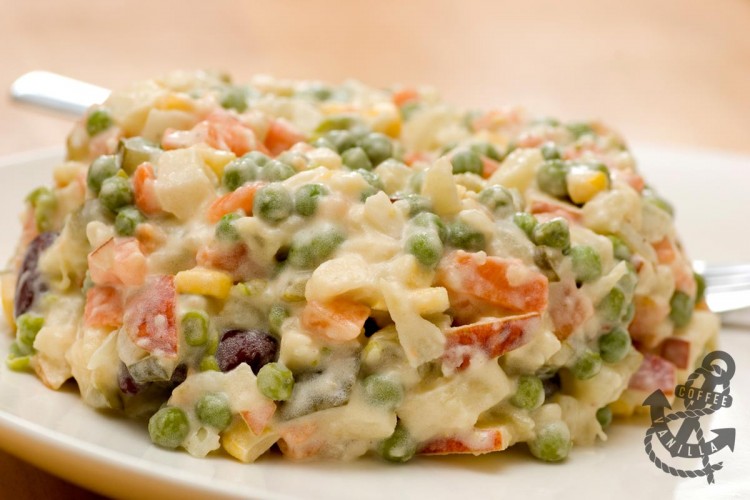 METHOD
First cook the potatoes (if using) and leave aside to cool down.
In clean, slightly salted water boil carrots and parsnips, add a bit of butter and once they are cooked save the stock that has created to make Polish red borscht or some other soup.
Chop cucumbers and place in a large mixing bowl.
Dice apples and stir them quickly to the bowl with cucumbers so they won't be getting brown.
Peel cooked potatoes, dice and add to the bowl, do not stir.
Dice also carrots, celeriac and parsnips and add to the mixing bow.
Then add tinned ingredients and mayonnaise.
Stir as little as possible not to mash the vegetables.
Season with pepper, mustard and salt to taste.
Place in the fridge to chill until ready to serve.
Serves about 8 – 10 people as a side dish, more with the potatoes.
NOTES
Traditionally this salad would be made without the beans but with couple of hard boiled and chopped eggs.
Salad can be stored for couple of days in the fridge, it actually tastes better next day.