At first my plan was to make Polish (Jewish) cebulak or cebularz but I got a bit carried away and topped my breads with all kids of ingredients, not only onion… Recipe for cebularz coming up soon but for now enjoy those delicious, focaccia style breads topped with onion, cheese and also some olives…
Because this is only dough with toppings recipe, it is super easy to make and versatile as well. You can swap the toppings to your liking or to whatever ingredients you have at hand.
The breads store nicely (and still taste good next day) so can be easily packed in lunchboxes, prepared for parties, BBQs or picnics.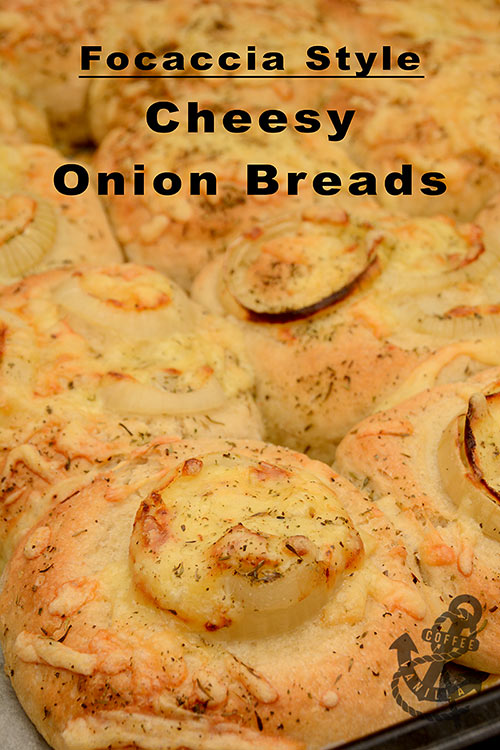 INGREDIENTS
basic bread roll dough made out of 1 kg of flour
½ cup olive oil (for rubbing)
2 – 3 onions (sliced)
cup of black olives (halved)  or sun dried tomatoes (chopped) – optional
dried herbs (we used mixed herbs: thyme, marjoram, oregano, parsley, sage and basil)
sea salt
¾ cup grated cheese (we used Cheddar)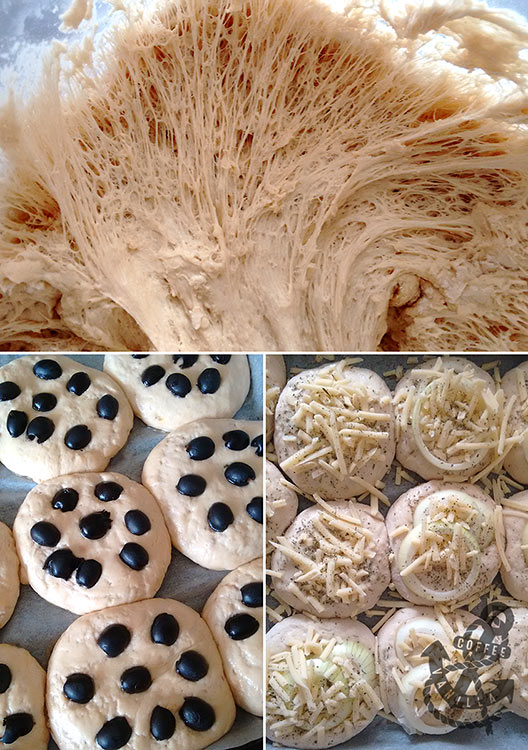 EQUIPMENT
large baking tray lined with baking paper
container with lid (about 5 liter size) for the dough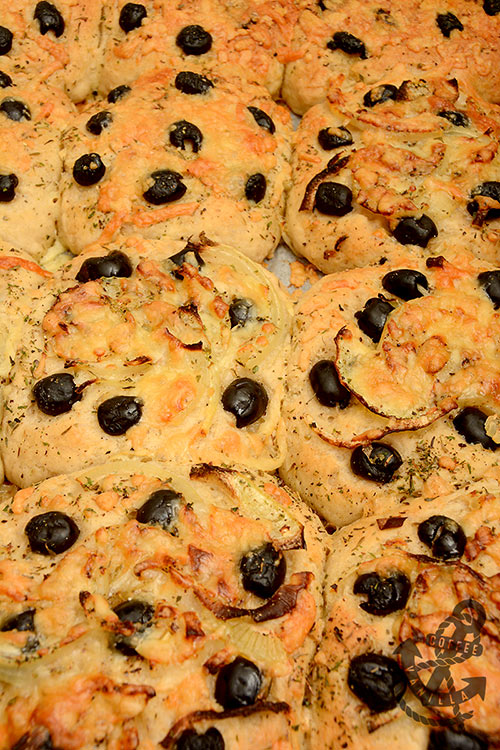 METHOD
Follow instructions for the bread rolls, shape them and place on baking tray lined with baking paper.
Preheat the oven to 200°C (392°F).
Flatten them to about 1.25 cm / half an inch and using fingertips rub with oil, leave aside to grow while you are preparing the toppings.
Top the dough with olives or sundried tomatoes if using and sliced onions.
Sprinkle with cheese, salt and herbs.
Bake for about 30 minutes or until golden.
Share and enjoy on they own or as an accompaniment to the soups and salads.
Makes 12 – 14 individual bread rolls size breads.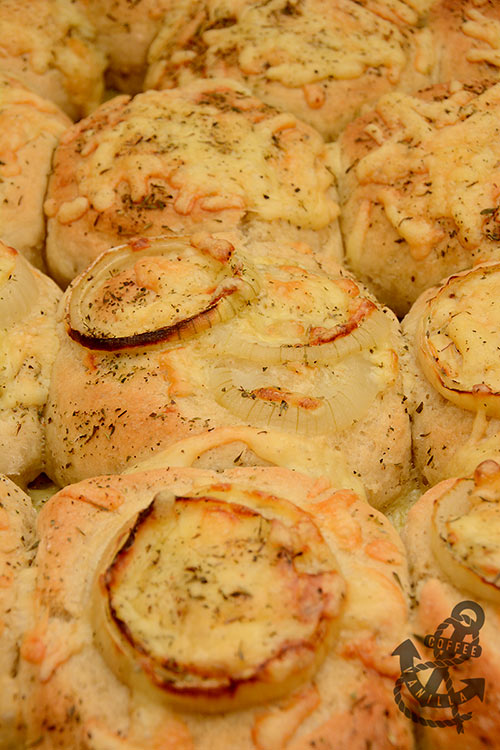 TIPS
Olives or sun dried toames can be replaced or skipped all together.
Plain onion can be replaced with red onion for more fancy look.
Mixed herbs can be replaced with other herbs, such as rosemary.
Dried herbs can be substituted with fresh chopped herbs sprinkled after baking.
NOTES
Take a look at other bread recipes we have posted previously: Buttery Yeast Bread Rolls & Bread Loaf, Jagodzianki – Polish Sweet Buns with Blueberries, Drożdżówki z Serem – Polish Cheese Buns, How to Make Tiger Bread or Dutch Crunch Bread from Scratch or Home Made No-Knead Half Brown Bread Loaf & Rolls.