This is a bit less glamorous but more traditional version of Polish cheese buns we made previously.
I made them with soft cream cheese rather than Polish hard cottage cheese that is usually used for the buns. Soft cheese is easier to find in the stores and also more convenient to use, no need to mash. They are also topped with crumbs for extra yumminess.
In summer drożdżówki often are topped with blueberries instead of the cheese. They can be also made with jam (when fresh fruits are not available) or with both cheese and jam.
My favorite are either with blueberries or with cheese (and crumbs of course), like the ones below.
And what your favourite flavour would be?
INGREDIENTS
for the dough
3¼ cup plain flour / about 500 g + some more for the working surface
1 cup / 250 ml lukewarm milk
3 tbs golden caster sugar
1 tbs / 15 g dry instant yeast or about 40 g fresh one
2 whole eggs
2 tbs unsalted butter (melted)
for the cheese filling
300 g soft full fat cheese
¼ cup golden caster sugar
seeds scraped from 1 vanilla pod, a bit of vanilla extract or replace some caster sugar with vanilla sugar
1 tbs potato flour or other starch (arrow root for instance)
1 whole egg + 1 egg white (separated, egg white whipped)
for the crumbs
½ cup flour
¼ tsp baking powder
¼ cup sugar
40 g unsalted butter (softened)
for the topping
1 egg yolk (mixed with about a tsp of water) – for brushing
EQUIPMENT
2 baking trays lined with baking paper
large mixing bowl
pastry brush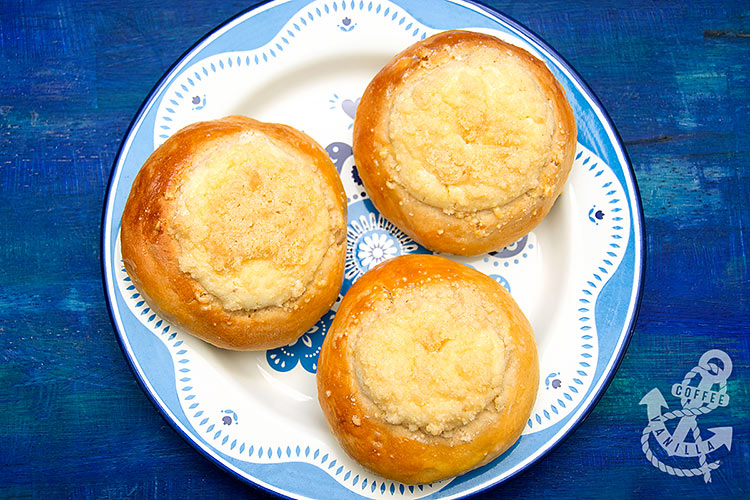 METHOD
To make the dough combine lukewarm milk with sugar and yeast, leave aside until it will double the size.
In meantime in a bowl mix flour with melted butter, add also eggs.
Then add milk and yeast mixture.
Knead the dough for couple of minutes until smooth and not sticky.
Cover the bowl with kitchen towel and let the dough to rise for about 30 minutes.
To prepare the cheese filling combine cream cheese with sugar, vanilla seeds, starch, egg yolk and whipped egg whites. Store in the fridge until ready to use.
Then share the dough into 12 equal pieces, turn each piece into a ball and then flatten.
Again, leave the buns grow for about 30 minutes.
In meantime prepare the crumbs by mixing all of the ingredients with your fingers until the mixture will turn into crumbs.
Use bottom of a glass or thumbs to make space for cheese filling in the middle.
Top the holes with cheese mixture and sprinkle with crumbs.
Place buns in the oven preheated to 160°C (320°F) and bake for about 30 – 35 minutes or until golden brown.
Half way through the baking brush the dough part of the buns with egg yolk, return them to the oven.
Let the buns cool down properly before serving.
Makes 12 buns. 
TIPS
Store buns in air tight container and they will still taste great the next day.
NOTES
Do not discard vanilla pod, use it to make some home-made vanilla sugar.
If you are looking for more recipes using cream cheese, take a look at our Polish Strawberry Cookie Crumb Cheesecake, Helen's  Blueberry & Sweet Cheese Lokshen Kugel, Rebecca's Jamie Oliver Protein Pancakes or Becca's Slovenian Struklji (Apple Dumplings).
I'm sending this recipe to Tea Time Treats hosted by Karen from Lavender and Lovage and Jane from The Hedgecombers. This month link-up theme is Local and Regional Ingredients & Recipes so this recipe suits in perfectly.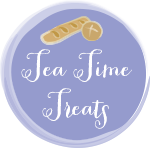 As Polish cheese buns are rather low cost recipe I'm adding also to Credit Crunch Munch frugal recipes challenge run by Camilla from Fab Food 4 All and Helen from Fuss Free Flavours and hosted this month by Manjiri from Travels for Taste.