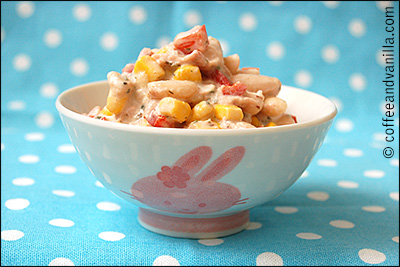 This is very quick salad that can be also used with addition of pasta for more satisfying meal.
INGREDIENTS
2 x 400 g  tins of cannellini beans / white kidney beans (drained)
2 x 200 g tins of tuna in brine (drained and flaked)
400 g tin of sweet corn
1 large red bell pepper or sweet pointed pepper (diced)
1 tbs Caribbean herb mix (thyme, basil, marjoram, savory and parsley)
3 tbs mayonnaise
3 tbs crème fraiche
sea salt  to taste
freshly ground black or rainbow peppercorns to taste
garlic powder to taste
Cayenne pepper to taste – optional
METHOD
Combine all ingredients.
Enjoy served with toasted bread or over some cooked pasta.
Makes enough salad for 4-5 people as a main dish or many more as a snack.