[Made by Marissa – my 7 year old daughter.]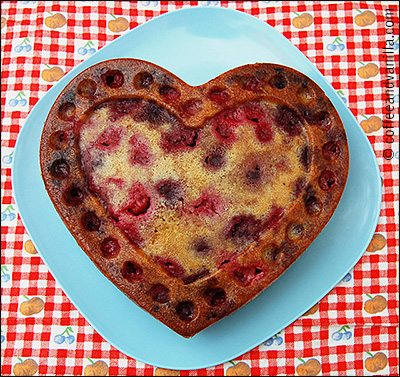 INGREDIENTS
1½ cups plain flour (250g)
1½ tsp / ½ tbs baking powder
150 g unsalted butter – a little bit more than half a bar (chopped and softened)
1½ cup caster sugar
5 large / 6 smaller eggs
1 vanilla bean (pod cut open, seeds scraped out)
about 400g frozen fruits (we used mix of cherries & blackberries)
some more icing sugar for topping – optional
EQUIPMENT
9" (22,8 cm) silicone cake baking mould
wooden skewer
mixing bowl & spoon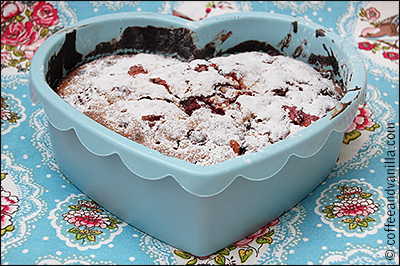 METHOD
Preheat the oven to 180°C (356°F).
Soften the butter either leaving it out earlier in room temperature or in microwave for about 40 seconds on full speed.
In a mixing bowl combine flour, baking powder, butter, eggs and vanilla seeds. Mix well.
Pour the mixture into silicone baking mould.
Top with fruits pushing them a little bit into the batter.
Bake for about 1 hour / 1 hour & 15 minutes. Check with the skewer if the middle of the cake is ready.
Remove from the oven, optionally sprinkle with icing sugar.
Let the cake cool down completely before sharing.
Make 8-12 servings.
Happy Mother's Day!
NOTES
This fruit cake taste even better next day, store it wrapped in aluminium foil or air tight container in the fridge.
Vanilla pod can be easily replaced with vanilla sugar or vanilla extract.
Don't discard empty vanilla pod, it can be used to infuse home-made vanilla sugar.
Marissa made this cake almost on her own, except for cutting open vanilla bean.