[Recipe by Babcia Ala, my mother.]
INGREDIENTS
for the dough
1 kg plain flour
100g fresh or  3⅓ tbs dry yeast
100g unsalted butter
2 whole eggs
2 egg yolks, save the egg whites for brushing
1½ cup lukewarm milk
1 tsp grated nutmeg
1 tsp sea salt, less if butter is salted
for the stuffing
600g sour cabbage (drained, 1 x 750g jar)
750g button mushrooms (chopped)
handful or dried wild mushrooms – optional
2 cups of boiling water
3 large onions (diced)
½ tbs juniper berries (crushed)
salt & pepper – to taste
oil or butter to fry
EQUIPMENT
colander
rolling pin
pastry brush
2 large baking trays or 6 individual sandwich trays
baking paper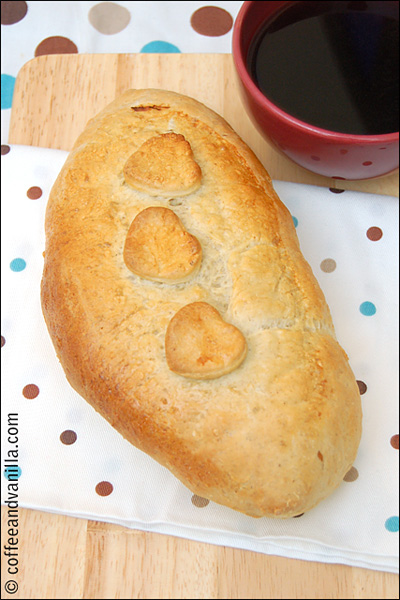 METHOD
Couple of hours in advance place dry mushrooms in 2 cups of boiling water to rehydrate them. Once they are soft chop them and leave aside, saving the mushroom water.
In a colander rinse (if  it is very sour) and drain cabbage squeezing out excess water.
Then chop it and place in a pot together with re-hydrated mushrooms, mushroom water and juniper berries. Cook uncovered until all liquid is gone.
Add some butter and oil and cook a while longer.
In meantime on the frying pan fry on butter or oil button mushrooms, until golden brown, add to the pot with cabbage.
Fry also chopped onions and combine it with cabbage mixture.
Season everything to taste with salt and pepper.
To prepare the dough dissolve the yeast in lukewarm milk.
Then combine it with all the rest of dough ingredients and knead until it is well combined and not too sticky.
Leave aside 1 small piece for the dough for decoration, then divide the rest into about 6 pieces .
Shape them into balls and then roll out each piece as much as you can.
Brush with slightly beaten egg white.
Top each piece with portion of the filling and roll making sure it is closed from each side.
Finally roll out the smallest  piece of the pastry and cut out shapes from it using cookie cutters.
Brush the top with the rest of the egg white sticking decorations.
Place each pastry on the baking tray, lined with baking paper and greased.
Leave aside to rise, for about 15 minutes.
Bake in 160°C (320°F) for about 30 minutes or until golden brown.
Make 6 individual kulebiak loaves.
NOTES
You can also make 3 large pies and then cut them into slices.
Kulebiak is traditional Polish dish served during the lent, that is why it does not include meat but sometimes is also made with fish. It is often served with barszcz (beetroot soup) on a side.
This is my mother's simplified version of the recipe for Kulebiak Wołyński.
It does not have to be shaped like a loaf, large Cornish pastry or round pastry, sometimes you can see them looking like a star or a fish, especially during Christmas and Easter seasons.
If you are not a fan of sour cabbage, you can always fill it with some tomato sauce, grated cheese and ingredients of your choice such as mushrooms, chicken pieces, sausages, peppers just like for the pizza… and call it calzone ;)