*** This review may contain spoilers ***
In the Big Top movie Scooby-Doo's gang goes undercover at the Brancusi travelling circus to solve the misery of jewellery thief who is stealing valuables from the visitors and turning performers into werewolves like himself.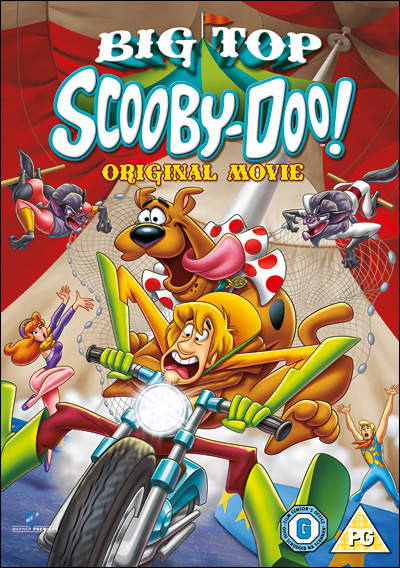 Image: courtesy of  Warner Bros
The Big Top is truly amusing cartoon full of action, mystery, and fun parts especially when the circus audience thought that all this werewolf chase and wrapping up with a rope was part of the show.
Just like proper detectives Scooby-Doo's team look for the clues, investigate and eliminate the suspects to find out that the thief was not a real werewolf but dressed up baboon trainer they have met on the very beginning of the story.
Both our 2 & 7 year old daughters enjoyed it a lot, the little one even refused to go for her midday nap to watch the movie but she has fallen asleep half way.
Except the Big Top movie the DVD includes 3 bonus older episodes, taking place in the theme park and the circus as well: Bedlam in the Big Top, The Ghouliest Show on Earth & Menace of the Manticore… which are engaging as always Scooby-Doo is.
Full of action, mystery, and fun for long winter evenings.

4 out of 5 stars
NOTES
Parts of this arti­cle can be found between our other reviews on Ama­zon web­site.
DISCLOSURE: We received Scooby-Doo! Big Top from Warner Bros for review purposes. We were not financially compensated for this post. All opinions expressed here are our own and we retained full editorial control. This post contains some affiliated links.