[inspired by my friend Lidka]
INGREDIENTS
for the pancakes
3 cups plain flour
5 cups full fat milk
2 whole eggs
2 egg yolks (leave egg white aside)
½ cup oil (I used grape seed oil)
for the filling
750 g white button mushrooms (chopped finely)
handful of dry wild mushrooms (crushed) – optional
900 g jar (500 g drained) of sour cabbage / saurekraut / fermented cabbage (squeezed in hand to remove excess water and chopped)
3 – 4 tbs oil (I used grape seed oil)
2 large onions (chopped finely)
ground black pepper to taste
sea salt to taste
ground nutmeg to taste (I used 2 pinches) – optional
for the covering
1 cup fine bread crumbs
2 whole eggs
2 egg whites (leftover from making pancakes)
unsalted butter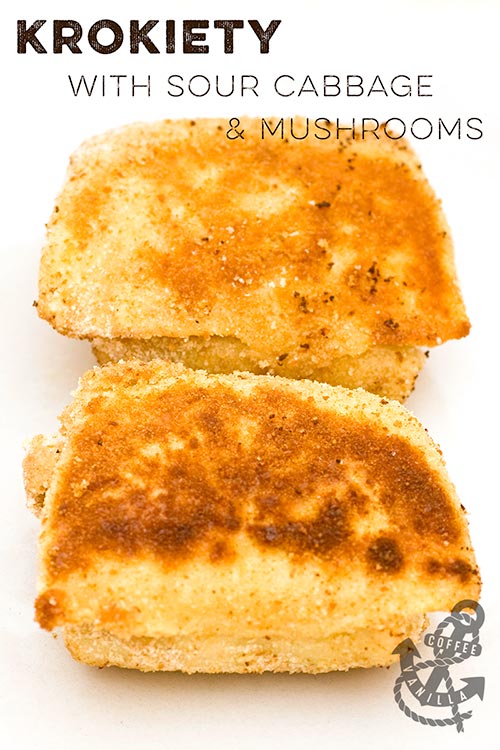 EQUIPMENT
non-stick medium size frying pan or even better two of them to fry pancakes
wok or wide pot to prepare filling
wooden spatula
whisk
75 ml spoon
50 ml spoon
METHOD
To prepare filling fry on oil onions, until golden.
Stir in dry and chopped mushrooms and cabbage and fry until there is no more water.
Season to taste with salt, pepper and nutmeg and leave aside.
To prepare pancakes combine all ingredients and whisk until there in no more clumps.
Make sure frying pan is hot before pouring pancake dough on it. You will need about 75 ml of dough for each pancake.
Quickly pour dough on the frying pan and move it around to make sure bottom of the frying pan is evenly covered with the dough.
Fry on both sides over medium fire. Once pancake is cooked it will be easy to place spatula under to turn it over.
Stack ready pancakes on the plate. Once you are done with frying and pancakes are cooled down enough to touch, it is time to start wrapping.
Place about 50 ml of filling on each pancake, spread it from one end to another but only in the middle of pancake, leave sides filling free.
Fold the sides to cover the filling, then roll it to create croquettes. Leave aside until you are ready to serve.
In the last moment before serving whisk eggs and egg whites in one plate and breadcrumbs in another.
Dip each croquette in egg, roll it in breadcrumbs and then place on frying pan with melted butter.
Fry on both sides until browned and crunchy.
Serve immediately with some salad on  a side or Polish way with some kefir or natural yogurt.
Make about 28 croquettes and serve 7 – 9 people or family of 4 for two days (allow 3 – 4 croquettes per serving).
NOTES
If you are not going to use all coquettes one time, leave them in the fridge without doing the last step with bread crumbs.
You can skip the breadcrumb-egg covering and just re-fry pancakes on butter or oil, they will taste great too.
Krokiety taste good with avocado salad on a side.
To make sure pancakes will not stick to the frying pan brush it once (before first pancake only) with some oil.
Any leftover pancakes without filling will taste good with some jam or even sugar and re-fried on butter (kids favourite).