INGREDIENTS
500 g ready cooked beetroot  (sliced) – save the juice for dressing
200 g bar of feta cheese (cubed or crumbled)
4 handfuls of baby leaves with rocket or rocket alone
4 tbs toasted pumpkin seeds
2 tbs extra virgin olive oil
1 tbs balsamic glaze or balsamic vinegar + a bit of honey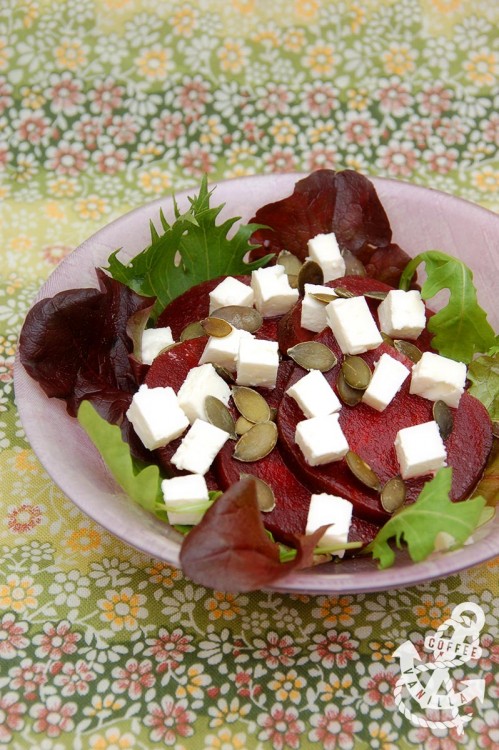 METHOD
On a frying pan toast the pumpkin seeds until they will start to pop.
Slice the beetroots and cube the cheese.
Combine about 4 tbs of leftover beetroot juice with olive oil, balsamic vinegar and honey or balsamic glaze to create the dressing.
Share leaves to the serving bowls, top with beets and feta.
Sprinkle over with seeds, drizzle with dressing and enjoy.
Makes 4 – 6 servings.
NOTES

For kids replace rocket with some iceberg lettuce pieces.
If you are looking for more healthy yet satisfying salads, then try: Minty Bulgur Wheat Salad with Tuna & Lemon, Baby Leeks Salad with Avocados, Olives and Capers or Pearl Barley Spinach Salad with Garlic & Chilli Flakes.
Check out some more beet recipe ideas: Smoked mackerel, beetroot and potato salad from Cooksister, Roasted Beetroot Penne from Pebble Soup, Chocolate macarons with beetroot chocolate fudge filling from Maison Cupcake, Chocolate, apple and beetroot bundt cake from Bellau Kitchen or Beetroot pkhali, or Georgian beet salad with walnuts and herbs from Nami-Nami.