INGREDIENTS
3 cups / 500 g dry pearl barley
9 cups boiling water
4 vegetable cubes (10 g each)
½ tsp chilli flakes
½ tbs dried oregano
1 lemon juice
½ garlic head (peeled, chopped)
1 small red onion (diced)
1 – 2 sweet red pointed peppers or red bell peppers (diced)
250 g spinach leaves (chopped)
3 tbs extra virgin olive oil
handful of fresh basil leaves / about 20 (chopped)
sea salt – to taste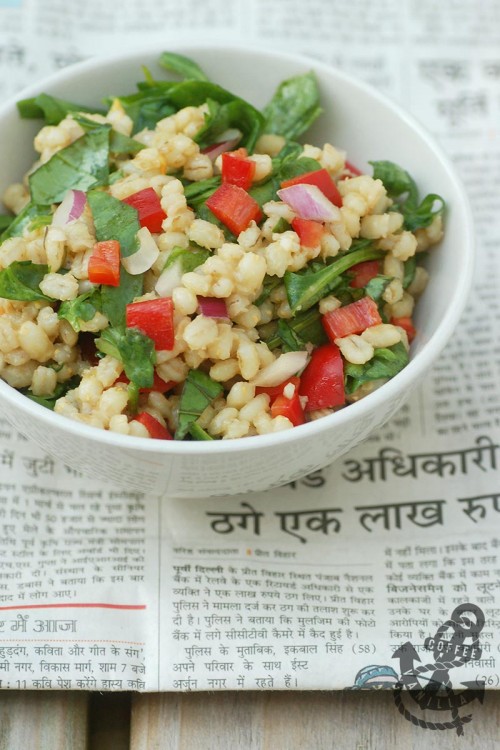 METHOD
In a large pot place barley, water and cubes, bring to boil.
Reduce fire, add oregano, chilli flakes, lemon juice and cook covered for about 40-50 minutes, until almost all water is gone.
Turn of the fire, leave covered for another 10 minutes.
Separate barley with a fork, stir in olive oil, onion and garlic.
Wait until the barley is not too hot before adding spinach, basil and peppers, otherwise they will get wilted.
Season to taste with salt if necessary and enjoy either while still warm, at a room temperature or cold.
Serves 6 – 8 people as a part of meal or many more as a salad.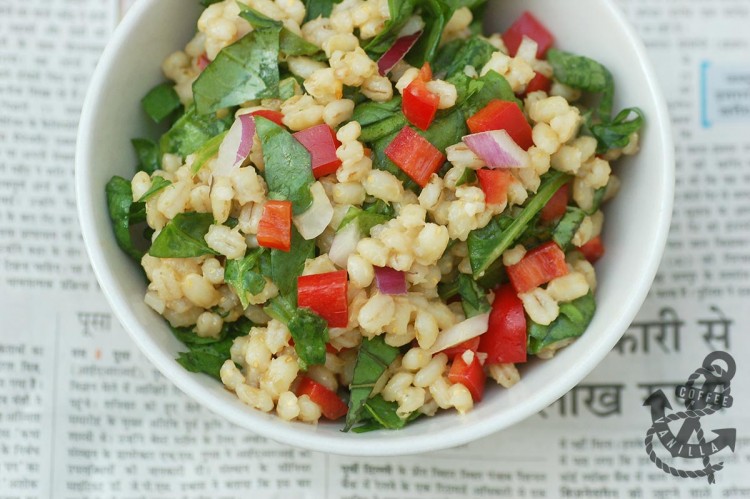 NOTES
This salad would work as well with other grains such as bulgur wheat or couscous if you have on hand.
This salad taste very good with smoked mackerel either fresh or from the tin.