INGREDIENTS
500 g bulgur / bulgar / bulghur wheat
2 x 200 g tins of tuna in water (drained and flaked)
1 small / half larger onion (finely diced)
1 red bell or pointed pepper (diced)
some evoo (extra virgin olive oil)
sea salt
black peppercorns
handful of fresh mint leaves / about 20 – 30 (chopped)
1 lemon zest and juice
2 – 3 avocados to serve – optional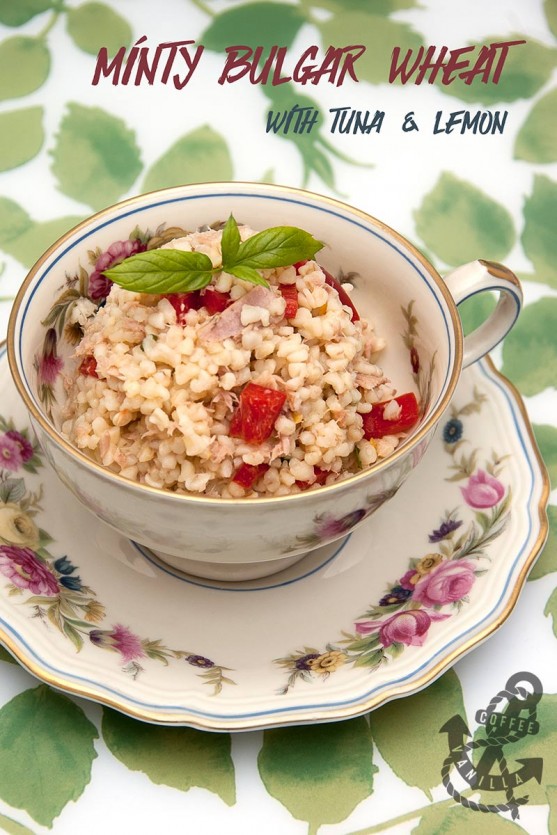 METHOD
To prepare the bulgur wheat place in in a bowl or pot and pour over some boiling water, enough to cover it plus a bit more.
Leave aside for at least 30 minutes or follow instructions on the packet.
Separate the grains with a fork, stir in lemon zest and onion while still hot.
Then add also tuna, lemon juice, olive oil, mint leaves and red pepper.
Stir well, season to taste with salt and freshly cracked pepper.
Enjoy while still warm or cooled down.
Serve as a warm salad on it's own or topped with some avocado.
Makes 4 – 6 servings.
NOTES
This salad makes perfect lunchbox food, taste even better the next day and can be served cold as well.
You may need to skip the onion if you are preparing it for kids. I had to put away some of the salad aside before adding the onions otherwise my girls would not eat it.
For more bulgar what recipe ideas check out this Lemon & Mint Bulgar Wheat I made long time ago, Quinoa, Feta, Bulgar & Chilli Salad or Special Fried Bulgar Wheat from Fuss Free Flavours.