This is quick and easy dessert for the end of summer – with ice cream, ready made cake and warming up liquor.
INGREDIENTS
400 g plain Madeira cake
10 scoops of vanilla ice cream
10 pieces of dark chocolate / about 75 g (shaved)
10 tbs spoons of Grand Marnier or other fruity liquor (for alcohol-free / kids version use some fruit syrup)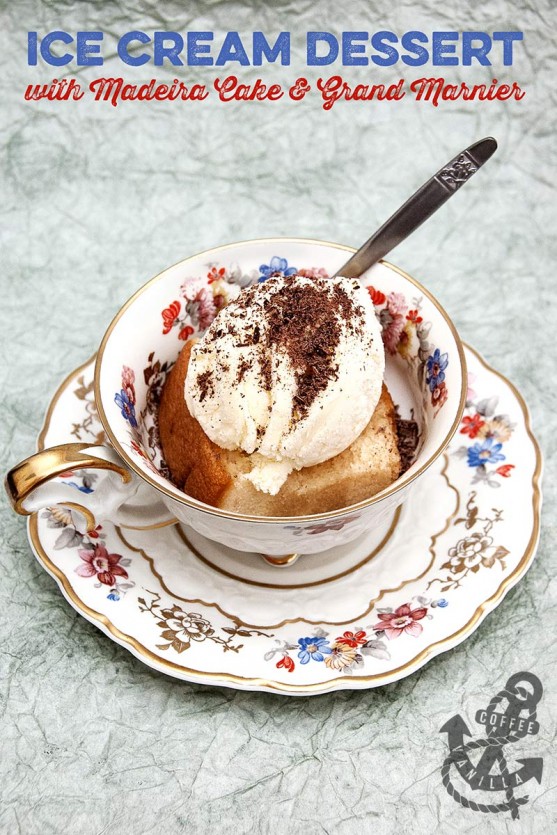 METHOD
Share the cake into 5 serving bowls, tea cups or whatever you are using.
Pour over some liquor or syrup.
Top each with two scoops of vanilla ice cream.
Finish off sprinkling with some chocolate shavings.
Serve immediately and enjoy!
Makes 5 servings.

NOTES
With thanks to Sylwia & Dan for collection of wonderful photo props in a form of vintage tea cups and saucers.
This dessert works well with almond fingers, sponge cake or any plain leftover cake as well.
Other strong alcohols such as spiced rum or flavoured vodka can be used instead in similar manner, with cake and ice cream.
Looking for more Grand Marnier recipe ideas? Try Poppy Seed Crêpes Suzette I made while ago or Seville Orange Marmalade from Greedy Gourmet.
Please consume spirits responsibly and don't exceed recommended safe alcohol unit limits.