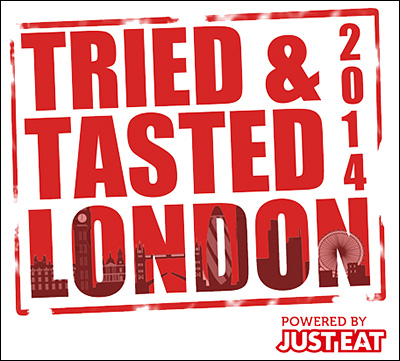 As a former Londoner I was very interested to hear that JUST EAT has organized Tried & Tasted London 2014 where anyone could cast a vote for the best takeaway in their part of town.
The winners have now been revealed and I decided to take a look at list of best takeaways for the North London… place where I used to live before moving to Brighton.
cuisine – American
141 Bowes Road
Palmers Green
London, N13 4SE
I was surprised to see such a big variety on the menu, except for the chicken there are burgers, wraps, kebabs, salads (especially the avocado one) and family meals for under £15.
cuisine – Chinese
20 Broadway Parade
Tottenham Lane
London, N8 9DE
Not only impressive amount of items on the menu but also interesting curries, soups, noodles and vegetarian dishes such as Deep Fried Beancurd with Chilli & Salt.
cuisine – Indian
1 Green Lanes
London, N16 9BX
Huge selection of curries, seafood, tratidional tandoori, biryani, dansak, balti, thali and masala dishes but also vegetable dishes, sides and dessert such as kulfi in almond, mango or pistachio flavours.
cuisine – Turkish
54 Stoke Newington Road
London, N16 7XB
The menu is very compact but it does include everything you would expect from the kebab takeaway: doner, shish, kofta, halep or iskender kebabs in different sized plus they do have selection of six different burgers.
cuisine – Italian
173 Seven Sisters Road
Finsbury Park
London, N4 3NS
Good selection of classic pizzas and some fancy ones such as Sizzling Veg, Fiorentina or New Age Veggie, good meal deals plus quite an unusual for takeaway choice of five beers including Mexican Corona.
Tried & Tasted has been running for 3 years now but his year JUST EAT has made the Award Digital and specific to London area. All winners can be easily recognized by a T&T sticker on their window or T&T stamp while ordering from JUST EAT website.
DISCLOSURE: I was compensated for my time to write this article but all opinions expressed here are my own and I retain full editorial control.