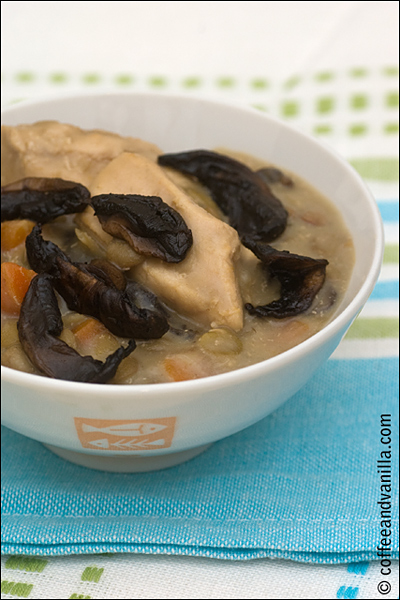 INGREDIENTS
600g of chicken breast (cut into chunks)
350g button mushrooms (sliced)
25g butter
1 cup of dry green lentils (soaked for about an hour, rinsed and drained)
4 chicken cubes
2 echalion shallots (chopped)
250g carrots (diced)
3 cups of boiling water
3 tbs plain flour
½ cup of cold water
black peppercorns (freshly cracked)
½ cup soured cream
mashed potatoes to serve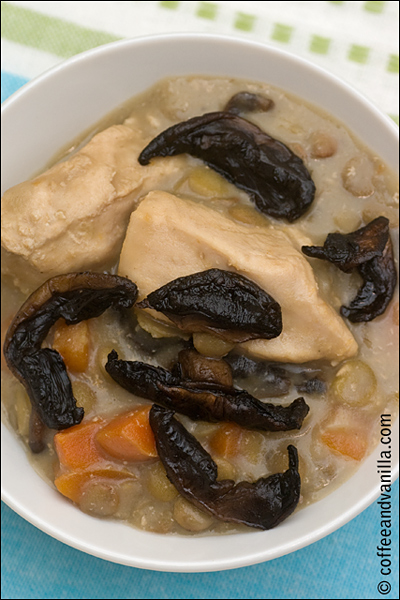 METHOD
Fry mushrooms on butter, until browned, and leave aside.
Place chicken, lentils, boiling water, cubes, carrots and shallots and bring to boil, reduce fire and cook covered until chicken, carrots and lentils are soft. Season to taste with black pepper, add also soured cream and mushrooms (save some for garnish).
Then stir in flour dissolved in cold water, add to the pot, bring to boil and let simmer for a while until sauce has right consistence.
Serve over mashed potatoes, garnish with saved mushrooms.
Make 4-6 servings.
Echalion shallots can be replaced with other shallots or plain onion.