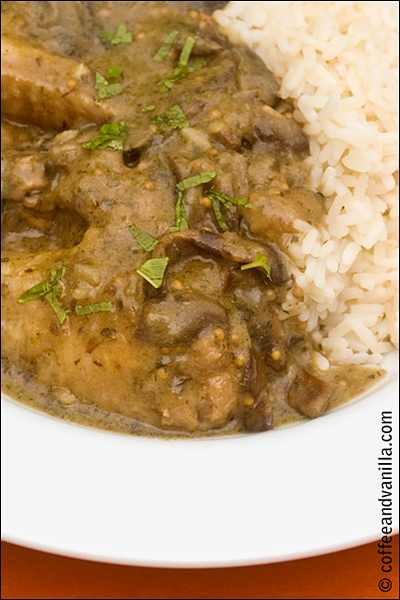 INGREDIENTS
600g of chicken breast (cut into chunks) or 1½ kg chicken wings
350g button mushrooms (sliced)
1½ tbs dried tarragon or some fresh one
1½ tbs mustard seeds
2 vegetable cubes
1 large onions – I used red onion (finely chopped)
2 tbs butter
3 tbs plain flour
½ cup of cold water
2 cups of boiling water
Dijon mustard to taste – I used about 3 tbs
cooked rice to serve
METHOD
Place chicken, mushrooms, tarragon, mustard seeds, onion and butter in a pot and cook until chicken and mushrooms are browned. In meantime dissolve cubes in 2 cups of boiling water. Pour to the pot, reduce fire and cook covered until chicken is soft to your liking. Season to taste with mustard.
Stir in flour dissolved in cold water, add to the pot, bring to boil and let it bubble for a while until sauce has right consistence.
Serve over the rice.
Make 4 servings.