[recipe inspired by Ruth from Once Upon A Feast]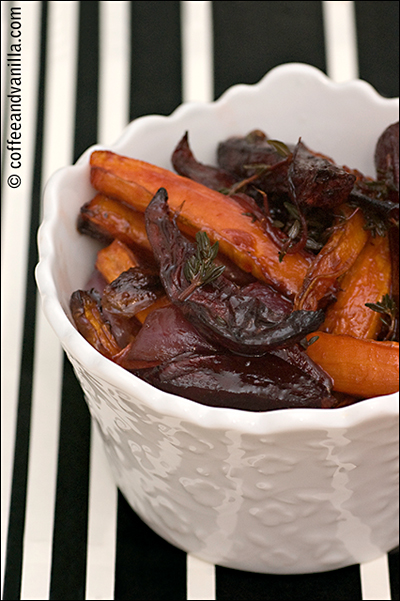 INGREDIENTS
1000g young carrots ( cut into sticks, ½ cm thick)
1200g large young beets / beetroots (peeled and cut into sticks or slices as well, ½ cm thick)
500g red or white onions (cut into wedges)
4 tbs olive oil
sea salt
rainbow peppercorns or black peppercorns
for the dressing
3 tbs balsamic vinegar
3 tbs red wine vinegar (white wine vinegar is fine too)
3 tbs soft brown sugar
4 tbs maple syrup
3 tbs fresh English thyme leaves or frozen English thyme
EQUIPMENT
two large non-stick baking trays or normal trays lined with Teflon sheets
METHOD
Preheat oven to 180°C (356°F).
Toss the vegetables with olive oil, season with freshly ground pepper and salt and transfer to the baking trays.
Bake for about 45-60 minutes tossing them from time to time.
In meantime prepare dressing, combine all ingredients together and leave aside till vegetables are ready.
When vegetables are roasted toss them with the dressing and serve or place in a container to use later.
This recipe make enough vegetables as a side dish for 8-10 people.
Taste so much better if prepared ahead and served cold.
Those veggies are great as a side dish with roasted turkey and potatoes or even in a cheese sandwich!