[recipe originally by Kate from Aapplemint]
INGREDIENTS
for brownie cake
50 g unsalted butter
350 g dark chocolate – melted (I used Green & Black's 70% dark chocolate)
¾ cup (150 g) gold caster sugar
4 large eggs
pinch of salt
1 tsp vanilla extract
a little bit more than ½ cup (50 g) plain flour
white chocolate mint frosting

150 g white chocolate – melted
150 ml whipping cream
small handful of fresh mint leaves (chopped)
for garnish

24 fresh large strawberries
fresh mint leaves
EQUIPMENT
piping bag or even better piping syringe
12 normal size but lower cake / muffin cases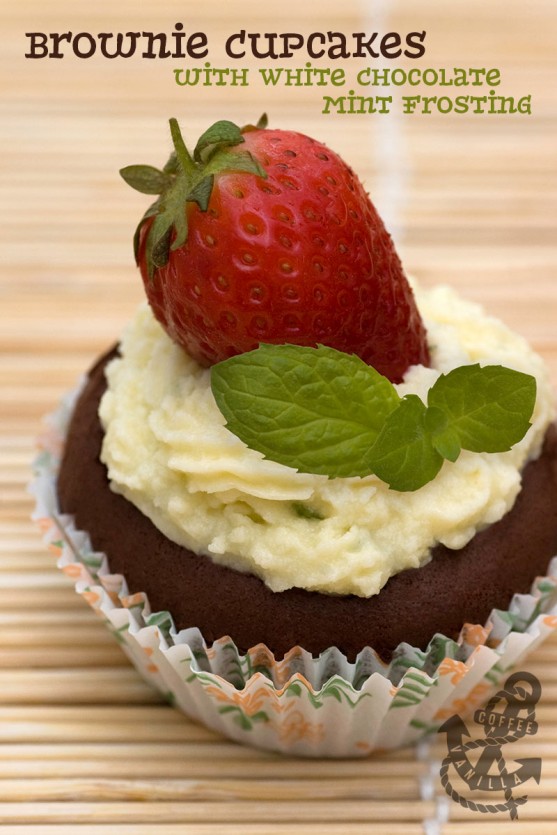 METHOD
Melt the chocolate and leave aside to cool down.
Beat eggs with salt.
Cream butter and sugar together, then add eggs, vanilla extract and flour.
At the end fold in cooled down chocolate and blend till smooth.
Pour the mixture into cake cases and bake in preheated the oven to 190°C (374°F) for about 10-15 minutes. If you keep cakes too long in the oven they will dry and top will start cracking.
Remove from the oven, leave aside till completely cold. You can even leave them (cooled down completely) in air tight container overnight.
When you are ready to serve cupcakes, whip the cream, add melted and cooled down chocolate and whip some more till thick.
Stir in chopped mint leaves and place frosting for about 10 minutes in the fridge till firm.
Then put it in the piping bag and decorate cupcakes.
Serve each cupcake topped with frosting, strawberry and few mint leaves, add one more strawberry on a side of each cupcake.
Makes 12 cupcakes.
NOTES
Ingredients for cake has been doubled and ingredients for frosting tripled ;)
Kate has used in her recipe blueberries and strawberries for garnish, I used only strawberries and some mint leaves.
When melting white chocolate for frosting, be very careful or use double boiler as it burns easily… that is why texture of my frosting is not smooth… but even through that it was the most delicious dessert I have ever prepared!
Looking for more girly cupcake recipe ideas? Then try Raspberry and white chocolate cupcakes by Cook Sister or Liquor Infused Chocolate Cupcakes, Lemon & Vanilla Cupcakes, Vanilla Fairy Cakes, Marble Chocolate & Vanilla Cupcakes I made while ago.