Those little, colourful cupcakes are inspired by Lego Duplo Creative Cakes and I made them for my younger daughter's second birthday to serve along mentioned Lego set ;)
INGREDIENTS
1½ cups plain flour (250 g)
1 bar (250 g) unsalted butter (chopped and softened)
1¾ cup icing sugar (250 g)
5 – 6 eggs (I used 6 small ones)
1 tbs vanilla extract
2 tbs cocoa powder
yellow food colouring or few pinches of turmeric – optional
1½ tsp / ½ tbs baking powder
for the topping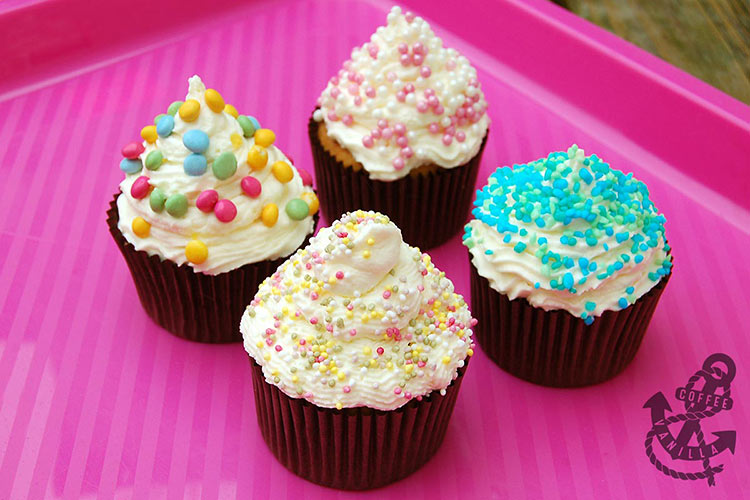 EQUIPMENT
15 standard size paper muffin cases or 12 of them + some other tin for the rest of the dough
muffin tray
wooden skewer
mixer
piping syringe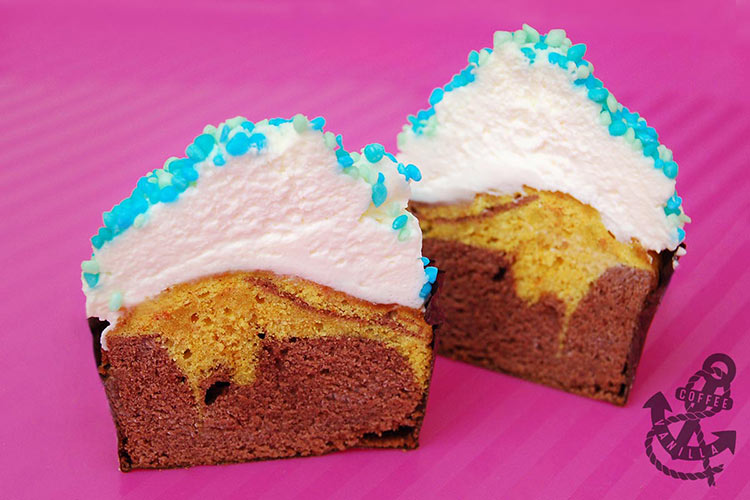 METHOD
Preheat oven to 170°C (338°F).
Line muffin tray with paper cases.
Beat the egg whites until stiff and leave aside.
In a mixer bowl place butter and icing sugar and beat until smooth.
Add egg yolks and vanilla extract and mix a bit more.
Then gradually stir in flour mixed with baking powder.
Stop the mixer, add egg whites, stir with a spoon until well combined.
Move half of the dough into different container to combine with cocoa powder.
Leave the remaining half uncoloured or add a bit of yellow food colouring or few pinches of turmeric powder.
Pour both yellow & brown dough into the muffin cases. I filled the cases first with brown dough and topped it with yellow one giving it a quick stir but it did not work out too well…
Bake for about 30 minutes. Check with the skewer if the middle of the cupcakes is ready.
Let them cool down completely before topping with the cream.
To prepare the cream just whisk cream with sugar until stiff.
Use piping syringe to make a swirl on the top of each cupcake.
Decorate with colourful sprinkles and place in the fridge until ready to use.
Makes 12 – 15 cupcakes.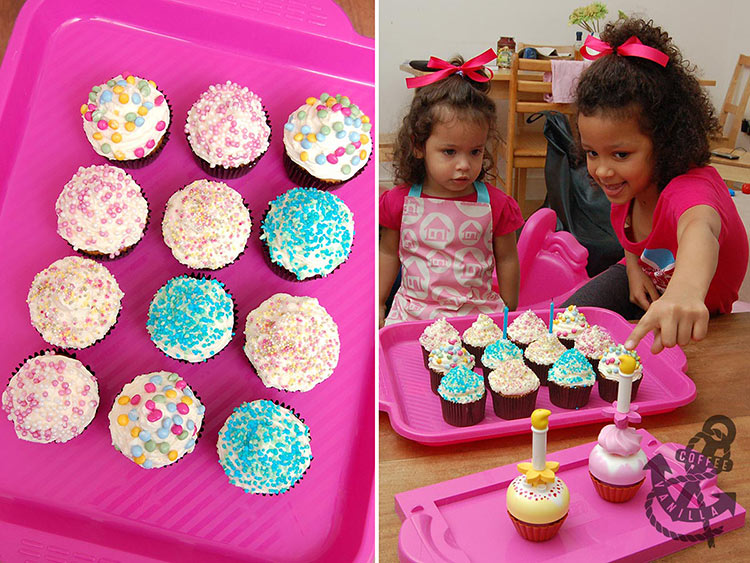 NOTES
I made those cupcakes for my daughter's second birthday to serve next to Lego Duplo cakes she was getting for her gift.
She loved both of them but I'm a little bit sad to say that Duplo cupcakes won my little ones heart while the bigger one ate most of the cupcakes I made.
Happy Birthday Ella! :)
DISCLOSURE: This post contain some affiliated links.