Have you thought yet about what book you are going to read to your children on Halloween?
Tamara Small & The Monster's Ball is another awesome monster story from Giles Paley-Phillips author of The Fearsome Beastie I was featuring some time ago. It has been also illustrated by Gabriele Antonini and published as well by Maverick.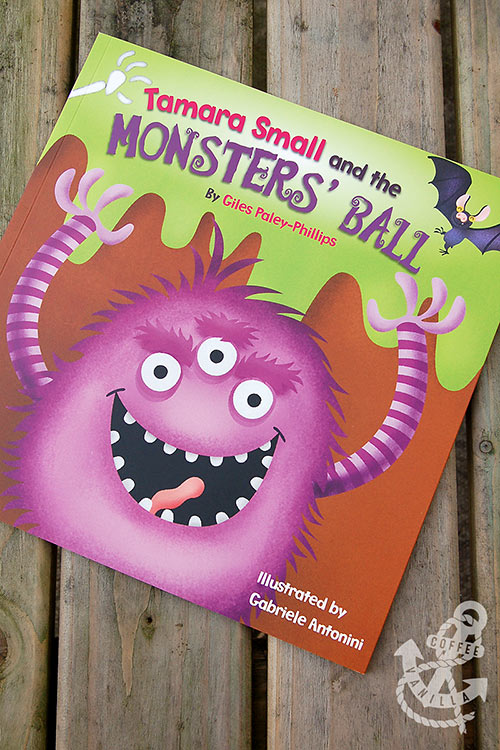 Tamara Small is a little girl who is facing her own fears while trying to fall asleep in bed. In darkness her imagination plays tricks on her. Suddenly all the sounds are creepier than ever, all the shapes remind reaching for her monsters…
I must admit that reading this book with my daughter brought lots of familiar sensations. Even now, sometimes when I lie down in the bed I'm a bit afraid of the laundry that is drying in the corridor (!) And probably many of us have similar childhood memories when in dark room everyday objects were taking scary shapes.
But back to Tamara, she is taken away from her bed to the monsters' ball where she meets all kinds of creatures: ghosts, goblins, ghouls, bats, werewolves, witches that are not so scary after all. They enjoy her company to this extent that they make her a cake… made out of slime.
Was she dreaming that all up? If so why there is slice of slime cake on her bedside table?  Find out for yourself…
Tamara Small and The Monster's Ball is an exceptional book, not only for Halloween and not only for boys as the main character is a girl herself.
Tamara Small and The Monsters' Ball
AUTHOR: Giles Paley-Phillips
ILLUSTRATOR: Gabriele Antonini
PUBLISHER: Maverick Children's Books
FORMAT: Paperback
SIZE: 258 x 256 x 6 mm
PAGES: 32
LANGUAGE: English
ISBN: 978-1848861008
PUBLISHED: 1st October 2012
Exceptional book, not only for Halloween and not only for boys…
5 out of 5 stars
NOTES
More Halloween ideas.
DISCLOSURE: With  thanks to the author – Giles Paley-Phillips & Maverick Arts Publishing for complementary copy of the book. You can find parts of this article between our other reviews on Amazon website. All opinions expressed here are our own and we retained full editorial control. This post contains some affiliated links.