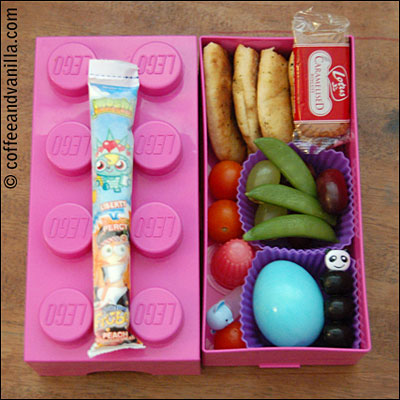 Lunchbox # 121 (for 7 year old girl)
quartered mini naan bread
blue hard boiled egg (soaked for couple of minutes in food colouring)
mini elephant bottle with pinch of salt
cherry tomatoes
steamed sugar snap peas
seedless red & green grapes
couple of black olives on panda food pick
mini red jelly
Moshi Monsters Frubes fromage frais
Lotus biscuit
bottle of water (not pictured)
Everything placed in pink LEGO lunchbox inside Smash lunchbag with separate bottle compartment.
More lunchbox ideas can be found here: Lunchbox Food.
And here you can read about Packing Children Lunches.
Some of the lunchbox accessories can be found in my Amazon aStore.
NOTES
This is my entry for my own event: "Wholesome Lunchbox". If you want to participate, please submit your entry through Flickr group before 15th of each month.