This salad is based on classic Waldorf Salad recipe.
Bitter-sweet salad, just like LOVE, perfect for Valentine's Day!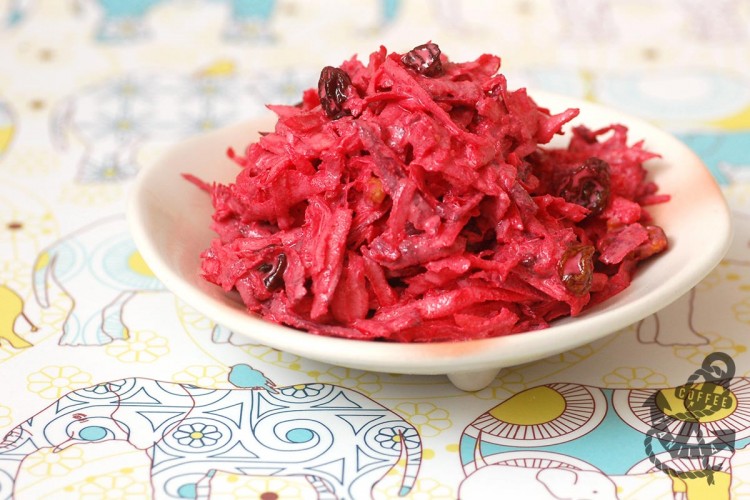 INGREDIENTS
500 g piece of celeriac root
500 g raw beetroots (about 2 of them)
½ cup / handful of raisins
½ cup / handful of walnuts
fine sea salt – to taste
black peppercorns – to taste
mayonnaise – to taste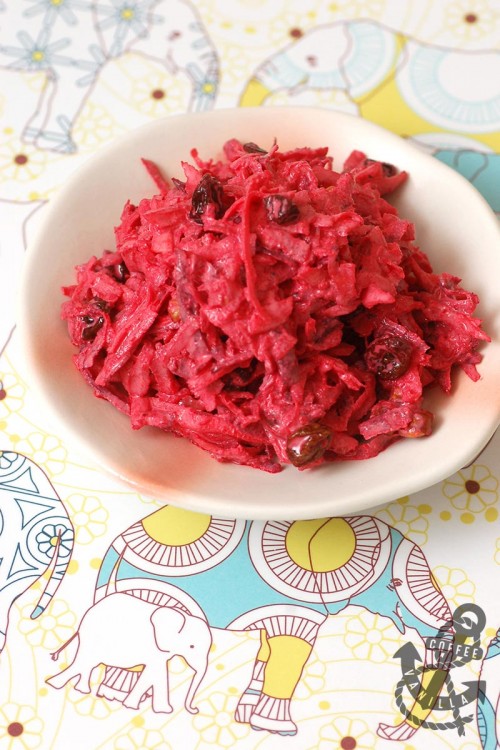 METHOD
Rehydrate raisins by putting them in a cup of boiling water.
Place couple of spoonfuls of mayonnaise in a large mixing bowl.
Peel and grate celeriac root and beetroots, stir into the bowl immediately mixing with mayonnaise, otherwise it the celeriac will turn brown.
Chop the walnuts, add to the salad.
Drain the raisins and also fold into the salad.
Season to taste with salt, freshly cracked pepper and more mayonnaise if required.
Cool down in the fridge for couple of hours or even overnight.
Enjoy with a slice of crunchy buttered bread as a snack or with meats as a side dish.
Serves 6 people.
NOTES
My husband does not like celeriac or beetroot so he was very sceptical when I started making this salad…  now he can't stop eating it (!) Myself, I love beetroot and celeriac, but not raisins, this salad is probably the only way for me to eat and actually enjoy them.